天虹书店 Tian Hong Bookstore
The game art style uses 2d pixels. In the game, the player plays a high school student who has undergone a transfer, and unfolds a warm and cold story around the bookstore in a new environment. In addition, a mini game of Chinese characters + Sokoban was designed during the game, hoping that players will feel the charm of Chinese characters. There are multiple endings based on factors such as dialogue choices and task completion. I hope "TianHong Bookstore" can become a late-night canteen of the bookstore version, and a warm corner in the huge world. Many people have left, but they will not miss it. The stories of those interesting people who have gone away continue here.
Game Features
Town life


Welcome back to TianHong Town. There is a not-so-busy street, a station, a school, a monastery, a canteen, a shop…a ​​bookstore. There are many interesting things, interesting things, and interesting people in the scene. I hope I can smile when I meet. Um? But why is it "returning"?
Old scenes

You can find memories of the past on the streets, in shops, in chat rooms, and in conversations between people. Some are full of longing, some fall into sentimental. But days always have to move forward.
Campus Time

What is the color of my campus life? Maybe there is joy, maybe there is regret, maybe not so expectant, and a little gloomy. But what does it matter? This is not all of youth.
Bookstore Story


More than 30 short stories around the bookstore, about family, friendship, love, ideals and so on. There are multiple endings based on task completion and selection. Equipped with CG appreciation mode, unlocked as the plot progresses.
between the lines

More than 40 Chinese characters + Sokoban mini game.
Internet coffee


Contains the once-hot online chat room, the chat content is interspersed with storylines, don't ignore it. Accompanied by the retro music on the radio, turn on the computer, enter the chat room, and enjoy a pleasant internet coffee time before going to bed.
I am waiting for you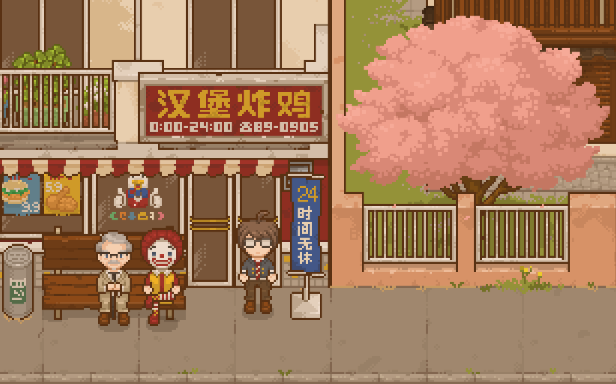 Under the cherry tree, TianHong Temple, campus rooftop, public canteen. I'm in the old place, waiting for you.
---
PC requirements:
Minimum:
OS: Microsoft Windows 7/8/10

Processor: Intel N4100 (or similar) or better

Memory: 4 GB RAM

Graphics: DirectX 9/OpenGL 4.1 capable GPU
---