1971: Indian Naval Front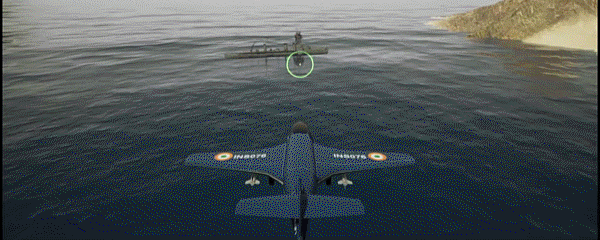 1971 : Indian Naval Front is a Naval Combat game made as a tribute to the Indian Navy towards their contribution during the 1971 India-Pakistan War.
1971 was a year filled with diplomatic tensions between India and her neighbour Pakistan. As the atrocities by the Armed Forces from West Pakistan against the people of East Pakistan kept increasing, Indira Gandhi, the then Prime Minister of India decided to act on it and determined to liberate East Pakistan(Bangladesh) as an independent country. During the months of October and November in 1971, Indian Navy sent her famed aircraft carrier INS Vikrant and few more powerful vessels to create a blockade against the naval vessels of West Pakistan and her allies in the Bay of Bengal to the East. Pakistan Air Force, on 3rd December, attacked multiple Indian airfields along the North and North West regions of India.
The War had now officially begun!
In retaliation, the Indian Navy sent 3 of her Osa-I class missile boats in an operation codenamed Operation Trident with an objective to destroy the Karachi Harbour. Operation Trident was a resounding success! After this point, major naval operations were kicked off in both the Eastern and Western waters; an encounter with the Pakistan Navy's Submarine PNS Ghazi being one of them. Indian Navy's fighter jets like the Hawker Seahawk were also used to destroy many East Pakistani Airfields and Harbours like Chittagong and Cox Bazaar.
On 16th December, Pakistan eventually signed the Instrument of Surrender and Bangladesh was declared an independent country.
1971 : Indian Naval Front will enable you to experience pretty much all the Indian Navy operations executed during the 1971 War including transmission of intel through morse codes!
Features
Play with iconic ships of the Indian Navy like INS Vikrant, INS Rajput, INS Brahmaputra, INS Veer, etc.
Experience real world missions in the form of a campaign like Operation Trident, taking out PNS Ghazi, destruction of airfields, etc.
Wreak havok from the air using the Hawker Seahawk of Indian Navy.
Fly the classic Westland Seaking helicopter for recon and search and rescue missions.
15 levels of naval and air combat missions.
Transmit Morse Codes to deliver intel as part of the Military Intelligence team.
A Quick Battle mode with preset scenarios and classic time-trial modes.
---
PC requirements:
Minimum:
Requires a 64-bit processor and operating system

OS: Windows 7(64-bit)

Processor: Intel Core i5(3rd Gen) or AMD six-core 3,5 Ghz (AMD FX 6300)

DirectX: Version 11

Storage: 20 GB available space

Sound Card: Compatible with DirectX 9.0c
Recommended:
Requires a 64-bit processor and operating system

OS: Windows 8.1 / Windows 10 (64-bit versions)

DirectX: Version 12

Storage: 20 GB available space

Sound Card: Compatible with DirectX 9.0c
---