Alchementalist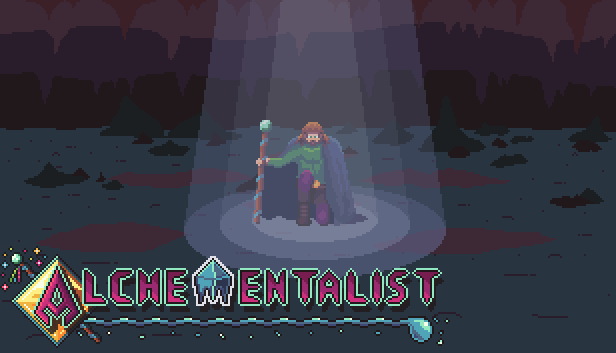 Alchementalist is very early in development and as such, some features may change and images are not representative of the final product.
Alchementalist is a procedurally generated rogue-lite dungeon crawler. Use the power of the elements to craft your own spells and create outrageous combinations of elemental effects, altering the very terrain itself! Delve deeper into the mines to find materials and grow into the most powerful character you can. Take on dangerous foes, learn about the secrets of the Ember-mages and challenge yourself to reach the deepest layers of the mines seeking the Ember-source itself.

Explore the ancient ruins of the Ember-mage mines, searching for the fabled Ember-source. Fight dozens of unique enemies, each with their own crafted spells and tactics, requiring strategy and reflexes to defeat. Encounter more and more dangerous foes as you venture deeper into the mines in your quest to find the Ember-source. The multi-tiered mines are partially hand-crafted, partially procedurally generated, guaranteeing each run is unique and exciting!

Find and mine elemental nodes by blasting them away with your magic. Each elemental node will provide different materials based on what spell type is used to destroy it, allowing you to pick and choose what materials you take away from each node.

Use the materials you've gathered to craft multitudes of spell upgrades or even completely new spells! Tailor your magic to exactly how you like to play. Change the target of the spells, add splash damage, modify spell effects, even make spells change the very terrain itself, the possibilities are endless.

Hidden deep within the secret lore of the wise, lie tales of an ancient order of mages. Theirs was a life lived in the depths of the earth and they delved vast subterranean mines, plumbing the ancient rock for the magical elements that were formed from the bones of the world. One element they prized above all others. They called it the Ember-source and they craved and treasured it, for it was beautiful, powerful, and addictive.
It was from this desired element that the name of their order came to be: Ember-mages. No one living knows why or how they vanished from this world, but vanish they did, and today their magnificent caverns lie in ruins, with only death and danger inhabiting them. Magical experiments and powerful abominations guard their secrets against those who dwell above. However, their tales and the seeds of truth that may be contained within have always attracted the brave and the foolhardy. You consider yourself both, and you have vowed to find the truth behind the veil of legend. The journey will be long and black and many dangers await. But, perhaps, at the end of the descent, when you have passed through much toil and weariness, lies a treasure beyond reckoning.
The Ember-source beckons, Alchementalist.
---
PC requirements:
Minimum:
OS: 7

Processor: 64bit 3.2GHz CPU

Memory: 2 GB RAM

Graphics: NVIDIA Geforce GTX 950

DirectX: Version 10

Storage: 200 MB available space
Recommended:
OS: 10

Processor: 64bit 3.6GHz CPU

Memory: 8 GB RAM

Graphics: GeForce GTX 1050

DirectX: Version 11

Storage: 300 MB available space
---