An Amazing Wizard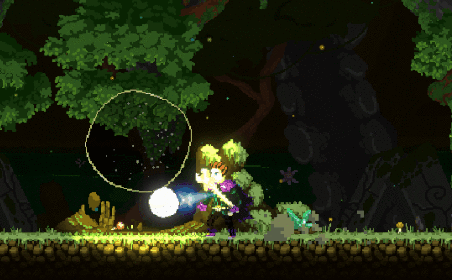 Gameplay
What do you get when you combine a roguelite with metroidvania? A RogueVania!
Explore procedurally generated levels with over 250 Artifacts, more than 100 Spells and dozens of Magic Weapons to unlock and use. After every death you'll respawn in one of the four nature-inspired magicial worlds.

Story
A bad Necromancer has placed you in his Magic Realm. Because of that few Magic Hands started to follow you. They are able to cast powerful spells. Find items to make them stronger and free yourself!
Key Features:
Procedurally generated world – Explore a unique world every time you play.
5 Nonlinear Levels – Only 5 levels? Yes, but each time you die you'll respawn in one of the four nature-inspired worlds and face other enemies based on current biome.
Few Difficulty Levels – Every time you kill the end boss, you'll gain possibility to change the difficulty level and face stronger foes.
Many Bosses – After every level you'll have to face a merciless boss.
Action RogueVania – This means permanent deaths where you lose every item you've found, but there are some permanent upgrades available.
A lot of Secrets and Mysteries to discover – No spoilers!
250+ Unique Artifacts – Every artifact has it's special use. A lot of them change your Basic Spell behaviour or add special abilities. Literally countless combinations.
100+ Spells – Cast Fire Balls or Tornados, Summon Creatures, Slow Time, Create Gravity Zones and many, many more…
Dozens of Magic Weapons – Use one of many Magic Weapons to help you survive!
Dozens of Upgrades – Upgrade your starting items or statistics. Add more elements to the world, increase your chance for finding better items and many more!
Hours of fun – This one depends on your skill. Something about 30-60 hours or even more.
Multiple Save slots
---
PC requirements:
Minimum:
OS: Windows 10

Processor: Intel Pentium G640 2.80ghz

Memory: 6 GB RAM

Graphics: AMD Radeon HD 7700 series

Storage: 2 GB available space

Sound Card: Realtek ALC662 – High Definition
---