Blessings of No-more
Overview
Blessings of No-more is a 3d rogue-like turn-based RPG. You wake up with only darkness around you and a small girl standing in front of you. You are told that you have died and this small girl promises you life once again if you carry out their request. Can you make it through many different worlds and find your way back to Annie?
Mechanics
Blessings of No-more features modern rouge-like mechanics with a backsplash of PC-98 inspired art and old-school JRPG combat. Collect and equip Blessings to get stronger and unlock special perks. Level-up to gain stat points and create a custom build. Choose from three different magic trees to further customize your build and completely change the way you play the game. Every death is meaningful; collect atlas points and complete achievements to get stronger in your next play-through.
Combat in Blessings of No-more is heavily based on PC-98 style JRPG combat, with some modern twists. Gain new attack skills as you level up, unlock magic spells by investing into a magic path. Explore and find summons to aid you in battle, and freely use items as you wish!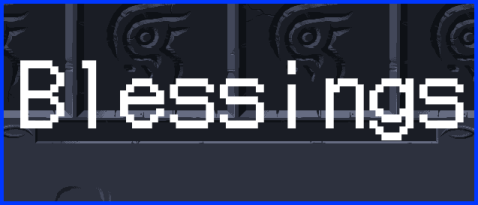 Find, craft, and buy Blessings to further customize your character and become stronger. Blessings offer both unique bonuses and raw stats.
---
PC requirements:
Minimum:
OS: Windows 10

Processor: intel® Core™ i3-370M or better

Graphics: GeForce GTX 780 or better

Storage: 10 GB available space
---