Blooming Business: Casino
Join our Discord
Support us with a wishlist! 🍀
https://store.steampowered.com/app/1388580/Blooming_Business_Casino/
About the Game

Blooming Business: Casino is a tycoon game with a drama and animal twist.
Design, build and run the snazziest casino in a bustling world where the sky's the limit. Work alongside cute animals who are anything but cuddly. Make sure to maximize client and visitor satisfaction while juggling their increasingly complicated demands. In this tycoon game, inspired by the rise of Las Vegas in the 1950s, explore a retro fantasy world and take your place from a small operation to a grand success!
A different kind of casino, filled with personality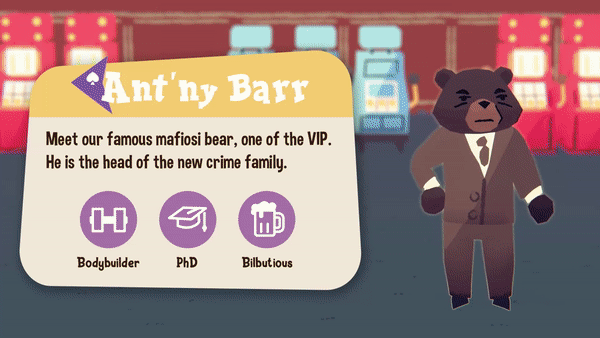 Meet the charming personalities of VIP visitors. Connect with them and learn their backstories, needs, goals and desires.
Discover your management style

What type of casino boss are you? Decide how you want to manage your capricious staff and clients, from controlling every detail to have an eagle-eye on every aspect of the business.
Let your employees do their work or directly intervene on the floor. Reprimand drunk customers, kick broken machines to repair them, and make chips rain to see your customers burst with joy!
Live personal stories

Your management style and commercial strategy will trigger different narrative events and it will be up to you to choose how to act. Beware, you may reap more than you sow.
Create and share your content
Pick up Unity and get access to the same tools as the team to create your own custom items, decorations and characters.
Share with the community and benefit from what others create to expand the elegant and gleeful world of Blooming Business: Casino

Key features
Manage your own casino. From HR to PR, design to operations. You have as much control as you want.
A gleeful retro world filled with charm and animal characters. Learn more about their personalities, ambitions and keep them happy and productive.
Monitor everyone's specific needs and expectations. If you want to make profit, you will need to make sure that clients are happy!
Customize and decorate your casino. Invest in new slot machines and decorative items. Optimize the casino design to improve traffic flow.
Set up the games as you like and manage the House Edge.
Fully moddable. Design and build your own items, decorations and characters to create an ever-expanding casino universe.
---
PC requirements:
Minimum:
OS: Windows 10

Processor: Dual-Core CPU

Memory: 4 GB RAM

Graphics: Recent Integrated Graphics or Dedicated GPU

Storage: 2 GB available space
Recommended:
OS: Windows 10

Processor: Dual-Core CPU

Memory: 8 GB RAM

Graphics: Dedicated GPU

Storage: 2 GB available space
---