Bombing Quest

You wake up as a dwarf, chained in an exosuit with no memories of the past. What surrounds you are the walls of an ancient temple. Your only guides are mysterious shrines. Your only ally is a friendly robot – the suit support unit. You make your way out of the temple to find out that its builders have long been forgotten. Humans have settled over the ruins of the old empire. Fierce monsters roam across the land. Dangerous insects lurk in the shadows. Ancient rusty automatons keep digging towards the core of the world with the same relentless persistence they had on the day they were abandoned. In the middle of all of this is you – the last guardian of a mysterious ark, with your only weapon – the bombs that your suit produces.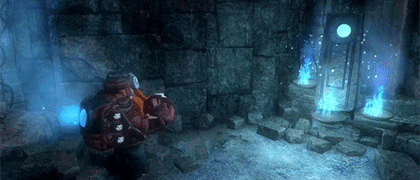 Bombing Quest stays faithful to the classical bomberman battle mechanic – you fight on a grid, where you plant bombs, which explode in four directions. Once inside a grid, you need to think strategically on where and when to plant bombs to damage the enemies without damaging yourself. As you progress through the game, the enemies will get quicker, smarter and will also develop more diverse attacks and behaviour, which will require you to react and adapt quicker. You will find components and gadgets to upgrade your battle suit to be able to produce more bombs with greater power, increase your health and speed, give you new abilities and so on.


It's divided in biomes and is semi-open – meaning you walk freely and chose where and when to battle, but you need to progress with the story to unlock the next biome. Each biome has its own distinctive look and enemies, often requiring different strategies to be effective. It has one or more bosses. There is a different sub story related to each one, often with its own quest line. The quests are started by interacting with NPCs you encounter around the game world. Some quests require actions actross multiple biomes.
---
PC requirements:
Minimum:
OS: Windows 7 SP1+, Windows 8, Windows 10

Processor: Intel i5-4570 3.2Ghz

Memory: 2 GB RAM

Graphics: NVIDIA GeForce GTX 750 Ti

DirectX: Version 10

Storage: 3500 MB available space
Recommended:
OS: Windows 7 SP1+, Windows 8, Windows 10

Processor: Intel i7-4790 3.6Ghz

Memory: 4 GB RAM

Graphics: NVIDIA GeForce GTX 960

DirectX: Version 11

Storage: 3500 MB available space
---