BroodStar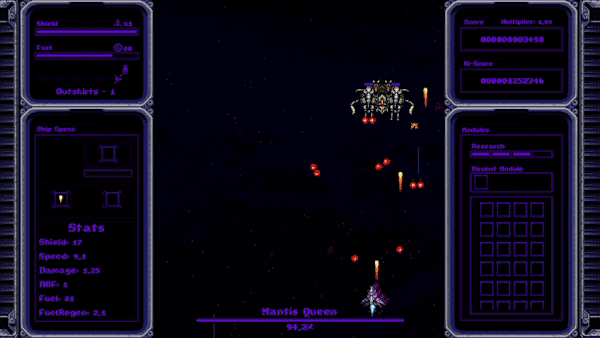 Features
12 Fully Randomized Stages
Challenges and Leaderboards
7 Main and 6 Sub Weapon Types
200 Unique Upgrades
Research System
Seed System
Challenging Bosses and Boss Variations
Stage Modifiers and Events
You can find the official soundtrack at: https://leiss.bandcamp.com/.
Campaign and Challenges
There are 12 campaign stages, each with its own unique theme and enemy types. Keep an eye out for some secret/optional stages as well!
Besides the campaign you can also tackle a few challenge stages with specific setups and separate leaderboards!
Stage Modifiers and Events
Stage Modifiers will change the behavior of the enemies and introduce new hazards. Events such as ambushes, mid-stage bosses and more can spawn during each stage, introducing a new objective when triggered and generously rewarding the player when completed.
Enemies
Enemies in BroodStar are a variety of standard SHMUP enemies and some more "confrontational" ones. There will be quite a few that aren't afraid to get in your face and ruin your day. Enemies that spawn in "Infected" stages are even tougher than their normal counterparts, so watch out!
Upgrade Types
The Upgrades in BroodStar can vary from simple Stat Upgrades that power up your ship, to more advanced types that can grant you powerful Active Items,
Projectile Modifiers or Drone Companions. Most of the Upgrade modules will combine with eachother to create unique combos. There are a ton of combo possibilities so don't be afraid to experiment!
Research System
The Research System will allow you to further power up your ship before each playthrough. Research points are obtained through picking up Modules of any kind and may be spent on any of the 3 available Research Trees: Offense, Defense and Utility.
Seed System
Each playthrough will have a unique string identifier that determines the generated content. Share this seed with your friends so they can experience the same crazy combos and hardships that you did!
---
PC requirements:
Minimum:
OS: Windows 7

Processor: Intel® Core™2 Duo Processor E6550

Memory: 1024 MB RAM

Graphics: Intel HD Graphics 510

DirectX: Version 9.0

Storage: 450 MB available space
Recommended:
OS: Windows 10

Processor: Intel Core i3-3220

Memory: 2048 MB RAM

Graphics: Intel UHD 605 or equivalent

DirectX: Version 12

Storage: 450 MB available space
---