Capital Island
Welcome to Capital Island
This island has seen better days… now, they all wait hope knock on their door.
You as a door-to-door seller will help Capital Island prosper again (while making some profit, of course!).
Choose Your Hero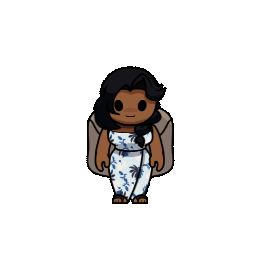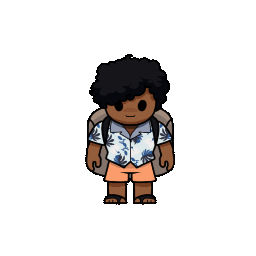 To help you accomplish this mission, you'll have the company of Isla or Brody.
That's no wrong choice here. Both are ready to make deals.
Knock Knock Knock
Each day you have to go door to door offering products from your catalog and making deals with the residents. Some will buy, some will offer a trade, some will ask for a donation… and others will just ignore you. But. nothing like a day after another, right?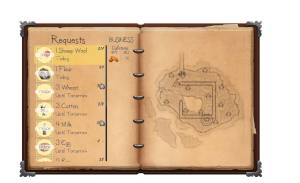 With your notebook, you keep track of your clients' requests and never get lost (since you have a map there too).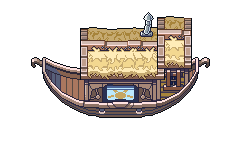 Every morning your dealer's boat docks at the pier and you can shop to fulfill your customers' requests or sell when there are too many items (or too few coins).

After that, just pack your bag and you're good to go!
Let's Talk About Business
When the island begins to evolve, new islanders will migrate and build new homes.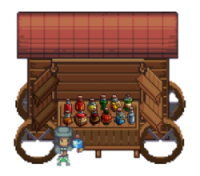 And some will grab the opportunity to open their own businesses.
That will also give you the possibility of different negotiations. And, who knows, maybe some interesting investments.
Capital Island is waiting for you!
Now, go knock on some doors…
---
PC requirements:
Minimum:
Requires a 64-bit processor and operating system

OS: Windows 7 64-bit

Processor: 2 GHz Dual Core

Memory: 2 GB RAM

Storage: 100 MB available space
Recommended:
Requires a 64-bit processor and operating system

OS: Windows 10 64-bit

Processor: 2.5 GHz Dual Core or better

Memory: 4 GB RAM

Storage: 100 MB available space
---
MAC requirements:
Minimum:
Requires a 64-bit processor and operating system

OS: >= macOS Catalina (10.15)

Processor: 2 GHz Dual Core

Memory: 2 GB RAM

Storage: 150 MB available space
Recommended:
Requires a 64-bit processor and operating system

OS: >= macOS Catalina (10.15)

Processor: 2.5 GHz Dual Core or better

Memory: 4 GB RAM

Storage: 150 MB available space
---
Linux requirements:
Minimum:
Requires a 64-bit processor and operating system

OS: Ubuntu LTS >= 20.04.1

Processor: 2 GHz Dual Core

Memory: 2 GB RAM

Graphics: OpenGL 2.1 / OpenGL ES 2.0 compatible hardware

Storage: 100 MB available space
Recommended:
Requires a 64-bit processor and operating system

OS: Ubuntu LTS >= 20.04.1

Processor: 2.5 GHz Dual Core or better

Memory: 4 GB RAM

Graphics: OpenGL 2.1 / OpenGL ES 2.0 compatible hardware

Storage: 100 MB available space
---