Caves Of Mars
The Caves Of Mars is the new 2D action space shooter game set in the mysterious caves of the planet Mars.
Tharsis is a mountainous region on Mars where hundreds of caves have been discovered. These caves contain precious gems which are heavily guarded by enemies and alien life forms.
Navigate your spacecraft through these caves, destroy enemies and alien lifeforms and collect as many gems as possible. Collecting gems will increase your health and gain points. You will gain extra bonus points the more gems you collect and enemies you destroy.
There are 100 cave levels to complete, each one procedurally generated randomly so no two levels are ever the same. As you progress through the levels the caves will become larger, more complex and you will encounter more challenging enemies, aliens and obstacles.
Enemies
You will encounter many different enemies as you progress though the caves. Some guard their position and don't move, whilst others form waves of enemy spacecraft which will follow you. The more powerful enemies will take serval hits to destroy.
Enemy Bosses
Watch out for enemy boss spacecraft. Some of the Key Cards are in the possession of enemy bosses so you will need your weapons to destroy these and collect the Key Card.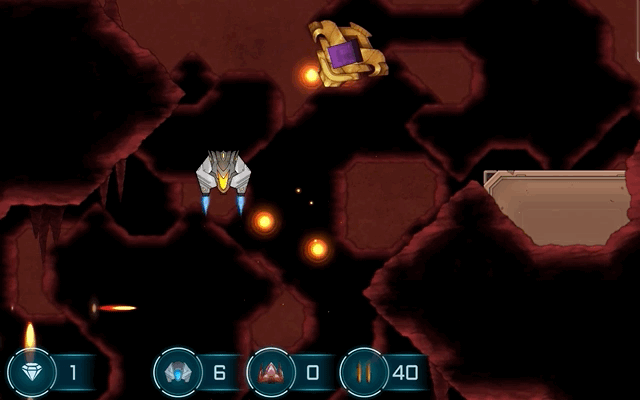 Aliens
Watch out for Alien lifeforms. Some of these can move, jump or fly and throw lightning bolts.
Fuel
Collect Fuel to Boost Your Health.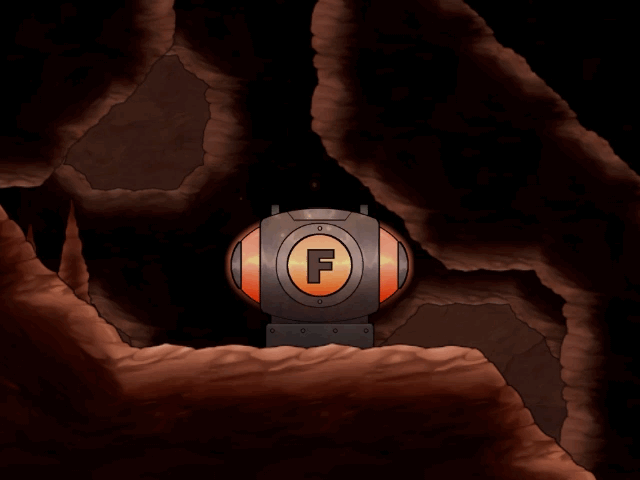 Power Ups
Collect vessels containing Weapons and Shield Power-ups. Collected power-ups are displayed in the right-hand panel. Activate / deactivate these by clicking them or selecting keys 1-8. Each power-up with change the appearance of your player spacecraft.
Key Cards and Laser Doors
Find and collect 'Key Cards' to unlock 'Laser Doors' to gain access to each section of these caves.
Map
To help there is a map of each cave system indicating the location of each Key Card and the laser doors they unlock. Open this by clicking on the map button. The caves get larger and more complex as you progress so you will need this map.
Laser Beams
Beware of the laser beams which you will need to negotiate your way through as they switch on and off. Each laser beam will turn off and on as you approach it. To return you need to navigate the sequence of laser beams before returning.
Moving Platforms
Navigate Your Way Through Moving Platforms.
Controls
Your spacecraft will automatically descend downwards until it hits the ground or an obstacle. Control your spacecraft using arrow keys or WASD keys. Fire using either Spacebar or Mouse Click.
---
PC requirements:
Minimum:
Requires a 64-bit processor and operating system

OS: 7

Processor: x64

Memory: 8 MB RAM
Recommended:
Requires a 64-bit processor and operating system
---