Citizens


Citizens is a turn-based hybrid of a city builder and strategic puzzler where you create beautiful cities, manage resources, plan long term investments, trade with foreign civilisations and look after your subjects. Explore beautiful islands, deal with difficult problems, and think about your next move very carefully, for it could be your undoing!
Planning your expansion is extremely important. Play through a challenging campaign which puts you into a large variety of scenarios, focusing on economy, trade, and warfare. If you prefer a more sandbox experience, try Challenge and Free build modes, where you are given more freedom to explore and experiment.

If you feel you don't need to know anything else, just try the demo! Six challenging islands are all yours to conquer. Be weary though, for you're not alone in this world; there are others who already inhabit it… and they won't let you take their land without a fight.
Our demo offers you a taste of what Citizens is like. It presents you with early-game mechanics and showcases the basics of the grid-based combat system, which is greatly expanded upon in the full release.
Your feedback is super important to us. Join our discord, pop us an e-mail or even write a message on the community board; let us know what you think, what you like and what you don't like, so that we can make the game even better. The Demo will be continuously supported along with the main release.


As an architect of your settlement, you need to carefully exploit the resources around the area. With a limited number of turns to achieve your goal, every move counts. Explore over 50 different buildings spread over several production chains and extract or process over 30 different resources, including but not limited to Timber, Pottery, Cheese, Wine and various forms of Weaponry. Collect tax from your Citizens as they pay for luxury goods, provide your people with jobs and build a glorious civilisation. Along your journey you will meet other civilisations with whom you can trade, or wage war.
Citizens offers:
New approach to city-building games
Campaign with challenging quests
A ton of replayability!
Combat and Trade
Endless fun with random level generation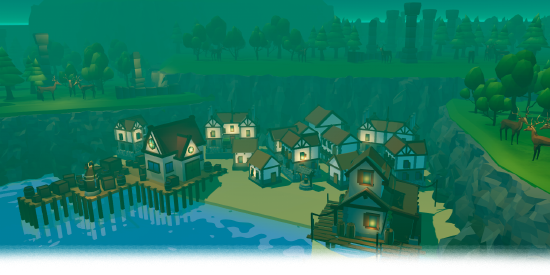 Meet various civilisations along the way. Sightsee the Aztec pyramids, trade with the people of the Orient, and defend yourself from plunderous Vikings! Focus on trade or combat depending on which path you take in the campaign. Certain civilisations might even have some interesting resources for sale, unobtainable by your own hand!
Citizens offers a grid-based combat system; it's designed to feel familiar to strategy veterans, and to be easily picked up by newcomers. If battles are not your thing though, that's fine. Diplomacy is always an option! Well… most of the time.
Be mindful… Other civilisations are not your only enemies. Fire and Plague can be as dangerous as the Sword.

With all this doom and gloom above, just keep in mind this…
If all you want is a peaceful and soothing experience, then try out Free-Build mode! Place buildings without any restrictions on a randomly generated island, or try out economy mode for something more challenging: that's where anything can happen! You'll never run out of new lands to explore. Something will always be different.
---
PC requirements:
Minimum:
Requires a 64-bit processor and operating system

OS: Windows 7, 8 or 10

Processor: Intel Core i3 2.00 GHz or AMD equivalent

Memory: 4 GB RAM

Graphics: Nvidia GeForce 710M or higher

DirectX: Version 11

Storage: 400 MB available space

Sound Card: Could probably benefit from one
Recommended:
Requires a 64-bit processor and operating system

OS: Windows 10

Processor: Intel Core i5 3.00GHz or AMD equivalent

Memory: 4 GB RAM

Graphics: Nvidia GeForce GTX970

DirectX: Version 12

Storage: 400 MB available space

Sound Card: Have one
---