Crush the Industry
Claw your way to the top of a big game studio in this roguelike deckbuilder inspired by classic JRPGs!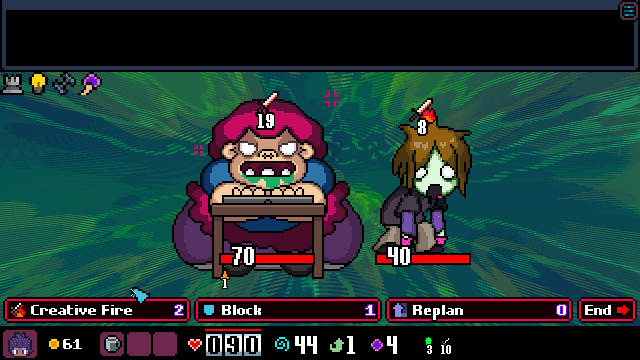 Features:
Roguelike Gameplay: As a totally expendable employee, you can bet your bottom dollar that every career run will be unique!
Work Your Way Up: Manage your schedule wisely as you progress through four different departments in the company. It's up to you to decide when more risk is worth the reward.
Strange Company: Encounter everything from toxic players and creative blocks to poorly-optimized code and grotesque meeting blobs!
Go Nuts: Harness the unpredictable effects of losing your sanity, or raise it to achieve a clairvoyant state.
Valuable Experience: Unlock new skills, talents, and bosses by leveling up. Each rank comes with a unique job title that is absolutely pointless!
Timed Hits: Some skills require a little more finesse. A perfectly-timed Schmooze might just save your skin…
Labor of Love: Made by a couple who are passionate about roguelikes and retro games.
---
PC requirements:
Minimum:
OS: Windows 7 (64-Bit), 8/8.1, 10

Processor: 2.0 Ghz

Memory: 4 GB RAM

Graphics: Intel HD Graphics 5000 or better, OpenGL Support required

Storage: 1 GB available space
---
MAC requirements:
Minimum:
OS: OS X version 10.12 Sierra or later

Processor: 2.0 Ghz

Memory: 4 GB RAM

Graphics: Intel HD Graphics 5000 or better, OpenGL Support required

Storage: 1 GB available space
---