Digital Jigsaw Puzzle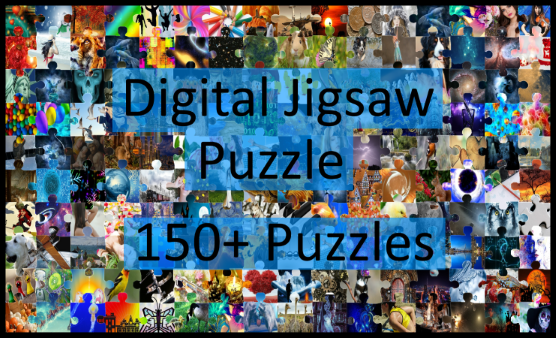 Welcome to Digital Jigsaw Puzzle!
Digital Jigsaw Puzzle replicates the experience of putting together a real world jigsaw puzzle. The puzzles are free floating and pieces can connect at any location on the screen.
The jigsaw puzzles will come in 16, 64, 256, and 576 piece sizes. There are 172 unique jigsaw puzzles to select from making this the largest jigsaw puzzle game available on Steam. You can also load in custom images into the game.
Different puzzle modes:
The jigsaw puzzles can be played from three different modes.
Table mode – This mode evenly places the starting positions of the pieces across the full table or on the right side of the table.
Swimming Pool Mode – This mode places the starting positions of the pieces into two "pools" of water located on the left and right sides of the screen. The pieces will float around allowing for the remainder of the screen to be used to complete the puzzle.
Scroll Mode – This mode allows you to cycle through different sets of pieces using the right mouse button or arrow keys on the keyboard to keep the table from being cluttered.
Game save features:
Your last played puzzle will save automatically. You may close the game and return at any time.
No paid DLC. No exceptions.
As a promise from the developer – this game will never contain paid DLC or ads. If new puzzles are added then you will receive them. If new modes, features, or content is added then you will receive it for free. You are buying the complete package with this game.
---
PC requirements:
Minimum:
Requires a 64-bit processor and operating system

OS: Windows 10 64 Bit

Sound Card: Standard Sound Card

Additional Notes: Mouse Required
Recommended:
Requires a 64-bit processor and operating system
---