DRONE The Game
If Steam doesn't let you purchase the game, please uninstall the game and try again or use the Upgrade button in the demo!
If you are experiencing issues with purchasing the game, uninstall the game and try again. If that doesn't work, use the UPGRADE button within the DEMO or follow this link.
If the issue persists, please contact us on our official Discord server.
About the Game




Experience what it means when you combine classics like Unreal Tournament and Descent and spice them up with fresh ideas from creative game developers and a dedicated community. Give it a chance:


… and decide if you want to support this game!


DRONE, in its core, is a multiplayer arena shooter. The gameplay is centered around fast paced aerial combat in spectacular scifi arenas. But wait, there is more: Create and manage complex remote controlled battle vehicles that fit your playstyle. Anything from tiny drones that fit through the smallest gaps for stealthy hit and run strategies to tanky behemoths with devastating firepower are possible. What you want to create and how you want to play is up to you! During early access the possibilities will increase frequently, for example ground based vehicles are on our roadmap.
There is also a very powerful arena editor alpha build available to play around with. When all core features of the game are ready the arena editor will be integrated directly into the game, opening up a whole universe of user created content, from the community, for the community.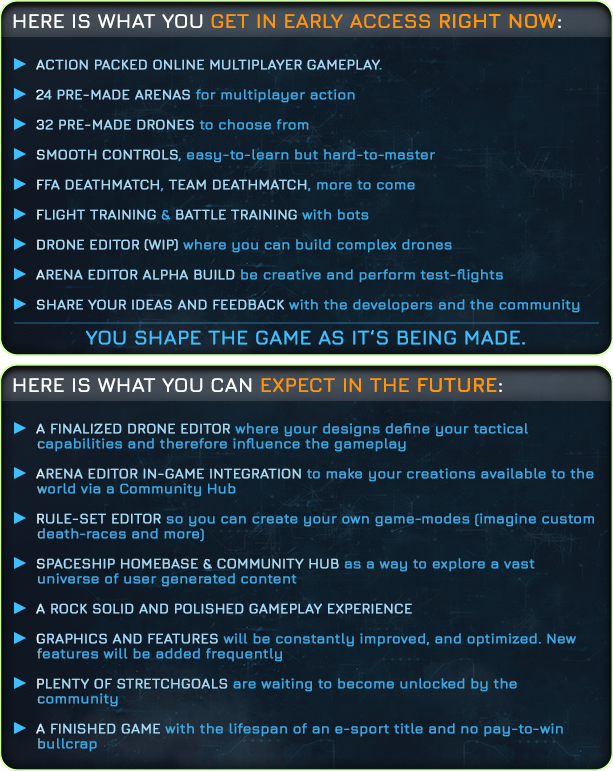 DRONE is currently in a successful ongoing on-site crowdfunding campaign. We promise to complete the game and we have proven that we have what it takes to do so.
By purchasing the game in early access, you are supporting the development of DRONE and getting the "Traveler" crowdfunding tier unlocked for you. Among other perks, this tier grants you full access to all features as they are developed and, of course, you will have the final game once it's done.



Not our conquest of space. Not our level of civilization. Not art or philosophy. Not even our scientific progress as such… when the first contact fleet of the Interstellar Committee of Advancement & Integration (ICAI) darkened the skies above the UN headquarters in New York 2137, the motivation for their intervention was clear cut: we were deemed a beast with tools and habits too dangerous to be left alone.
And to a subset of civilizations in the galaxy that meant: READY FOR THE GAME.
Warfare out there had become a regulated affair long ago. A ritual. A kind of sport. A source of entertainment backed by a vast and complex industry. Disputes over resources and territory, even the appropriation of some technology were no longer the subject of messy and uncontrollably destructive conflict. Such commodities would often become the formal prizes of tournaments, fought on a variety of natural and artificial stages all over the galaxy by teams representing companies, nations, a planet, an entire species… or just themselves.
Read more on the official website of DRONE.


Achievement Unlocked!
Read the whole thing. Reward:


---
PC requirements:
Minimum:
Requires a 64-bit processor and operating system

OS: Windows 7 (64-bit and with latest updates)

Processor: Dual Core 2.2 GHz or equivalent

Memory: 4 GB RAM

Graphics: 1 GB VRAM or better / Nvidia GTX 650 or AMD Radeon HD 6790

DirectX: Version 11

Network: Broadband Internet connection

Storage: 14 GB available space

Additional Notes: Included Arena Builder demo is not fully optimized and has higher requirements (8 GB RAM, 2 GB VRAM)
Recommended:
Requires a 64-bit processor and operating system

OS: Windows 10 (64-bit)

Processor: Quad Core 2.5 GHz or better

Memory: 8 GB RAM

Graphics: 2 GB VRAM or better / Nvidia GTX 670 or AMD Radeon HD 7970

DirectX: Version 11

Network: Broadband Internet connection

Storage: 14 GB available space

Additional Notes: Included Arena Builder demo is not fully optimized and has higher requirements (12 GB RAM, 3 GB VRAM)
---