End Of The Mine
Collector's Edition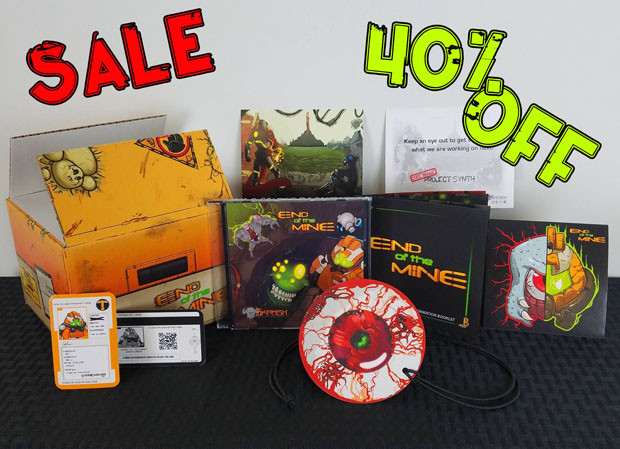 Special launch discount! Currently on sale for $14.99.
End of the Mine is also available as a limited release Collector's Edition. This Collector's Edition of End of the Mine contains:
Custom designed End of the Mine crate box
End of the Mine styled CD & case
Manual/Information booklet
4" V.S. sticker
4" Eyeball medallion with digital code on back
Miner I.D. card
Project Synth promo card
Only 1000 copies of the Collector's Edition are available — order now at our store before they're gone!
About the Game
Welcome to the Mine!
End of the Mine is a 2D sidescrolling platformer that features a unique art style and draws inspiration from the horror and sci-fi genres. Tempered by an abundance of slapstick humor, monstrous enemies and bosses, and lovable characters, End of the Mine is sure to offer a one of a kind experience.
You are a miner on a distant planet excavating valuable resources. After a night of relaxing with your fellow miners, you awake to find them gone and the colony you call home deserted. With only your faithful companion Camm-E to help, you must venture into the mines of this now deserted planet in search of your friends — and answers. But even as you look down into the darkness of the mine, you can't help but wonder — do you have what it takes to reach the End of the Mine?
Features
Enter the Miner: You are The Miner, a man on a mission to find his friends and the truth. Run, dash, jump, and hover your way through the planet using a keyboard/mouse or a controller.
Discover the Depths: Explore 5 challenging areas with multiple levels and 6 unique environments.
Pick Your Weapon: Blast your way through the mine with over 8 powerful weapons and upgrade them for new features and even more destructive power.
Occupational Hazards: The Mine is home to more than just resources. Face off against more than 30 distinct enemies and 16 epic boss battles designed to challenge your skills and reflexes!
Sky's the Limit: Utilize The Miner's jetpack for versatile movement options, including boosting and hovering.
Trust Your Partner: The robotic Camm-E has multiple functions that can aid The Miner in his journey — see if you can discover them all!
Original Score: End of the Mine features original music and sounds by the talented Ian Bailey.
Cinematics: Watch visually stunning cinematics in End of the Mine's distinct art style.
---
PC requirements:
Minimum:
OS: Windows XP SP2+

Processor: Intel Pentium 4 or equivalent

Memory: 4 GB RAM

Graphics: DX9 (shader model 2.0) capabilities

DirectX: Version 9.0

Storage: 8 GB available space
Recommended:
OS: Windows 7 / 8 / 10

Processor: Core i7 or equivalent

Memory: 8 GB RAM

Graphics: Intel HD Graphics 4000 and higher, ATI Radeon HD Series 4650 and higher, Nvidia GeForce 2xx Series and up

DirectX: Version 11

Storage: 10 GB available space
---
MAC requirements:
Minimum:
OS: 10.8+

Processor: Intel Pentium 4 or equivalent

Memory: 4 GB RAM

Graphics: DX9 (shader model 2.0) capabilities

Storage: 8 GB available space
Recommended:
OS: 10.9

Processor: Core i7 or equivalent

Memory: 8 GB RAM

Graphics: Intel HD Graphics 4000 and higher, ATI Radeon HD Series 4650 and higher, Nvidia GeForce 2xx Series and up

Storage: 10 GB available space
---