Field of Arms: Tactics
Field of Arms: Tactics is a strategy game set in the 18th century Caribbean, recreating clashes between the empires of the time for control of territories, with a unique board game aesthetic, players will face the enemy in a tactical map to defend or attack strongholds in sieges and maneuver units during tense battles.
Using a real time with pause system where every move and action counts, the player will need to be aware of each of their unit's defensive and offensive capabilities, and also the type of terrain they are standing on.
Features
– Play as different empires (England, Spain)
– Play through Scenarios in Historical Battles
– Command different units, each one with unique gameplay elements and abilities. Unit types: Infantry, Artillery, Cavalry, and Naval vessels.
– 18th Century maneuver warfare: Take into account unit properties like fields of fire and broadsides of ships.
–Battlefields with different objectives and plenty of opportunities for a variety of tactics and approaches
– Use different tactics taking into account the terrain. Also be wary of enemy fortifications and Structures.
– Built on Unreal Engine 4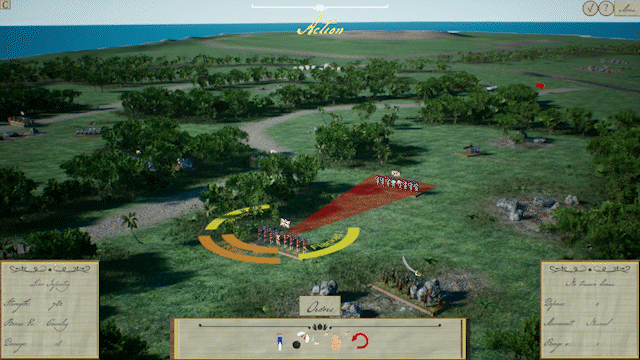 Gameplay Mechanics
Units have the following characteristics:
-Firing arc: Units can only fire in their respective arcs. Infantry fires forward and ships sideways.
-Facing: The unit has to rotate to bring weapons to bear, during which it will be unable to move or fire.
-Terrain properties: Each terrain has defensive bonuses and movement speed depending on the type.
-Unit damage dynamics: Each unit has different damage bonuses depending on the unit they attack.
Unit Flanks: Depending on where the unit is attacked (front, flanks or rear) it will receive damage accordingly.
Roles and gameplay variety
Careful use and positioning of units make the base gameplay for the tactical battles in Field of Arms: Tactics.
Infantry: Main units, makes up the bulk of the armed forces. Exercise a variety of roles and are used to control territory.
Artillery: Long Range units focused on attacking enemy fortifications.
Naval Units: One of the most important features in Field of Arms: Tactics is that you can not only play with the soldiers on the ground but also command the available ships on the sea bombarding from afar and help your army achieve victory.
---
PC requirements:
Minimum:
Requires a 64-bit processor and operating system

OS: Windows 10 64-bit

Processor: Quad-core Intel or AMD, 2.5 GHz or faster

Memory: 8 GB RAM

Graphics: DirectX 11 or DirectX 12 compatible graphics card

Storage: 2 GB available space
Recommended:
Requires a 64-bit processor and operating system

OS: Windows 10 64-bit

Processor: Quad-core Intel or AMD, 2.5 GHz or faster

Graphics: DirectX 11 or DirectX 12 compatible graphics card
---