FRANZ FURY Demo
Franz Fury and his best-friend-cat Hans, lived a peaceful life full of gasoline, looting and parties.
After a hard night of booze and gambling, Hans was cat-napped and Franz car Betty was completely stripped down.
KILL EVERYTHING THAT STANDS BETWEEN YOU AND HANS!
Join this bloody meltdown party and
Save Hans
Upgrade your car Betty and make it the fastest and toughest piece of killer-steel in the wasteland
Apply your own style, make the car truly unique!
Meet friends and enemies on your revenge trip
Use your car as a weapon. Equip it with guns, flamethrowers or just no-mirror-reverse-boost-360-facesmear-roadkill your enemies
Enjoy the old-school top-down graphics!
Roadkill your path to Hans


Customize


Brutal Car Combat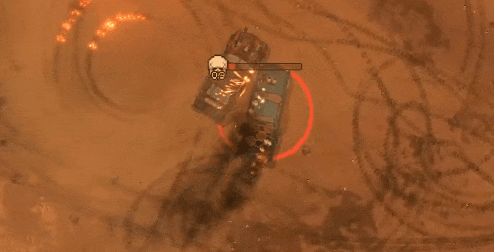 Meet lovely Weirdos

Turn up your speakers to get blasted by the brutal metal soundtrack and paint the road with blood and guts of your enemies!
---
PC requirements:
Minimum:
Requires a 64-bit processor and operating system

OS: Windows 10

Processor: 2.6 GHz Dual Core or similar

Memory: 4 GB RAM

Graphics: GeForce 700 series or similar

Storage: 600 MB available space
Recommended:
Requires a 64-bit processor and operating system

OS: Windows 10

Processor: Intel i5 2.6 GHz or similar

Memory: 8 GB RAM

Graphics: GeForce 900 series or similar

Storage: 600 MB available space
---
MAC requirements:
Minimum:
Requires a 64-bit processor and operating system

OS: OSX 10.8

Processor: 2.6 GHz Dual Core or similar

Memory: 4 GB RAM

Graphics: GeForce 700 series or similar

Storage: 600 MB available space
Recommended:
Requires a 64-bit processor and operating system

OS: OSX 10.8.5

Processor: Intel i5 2.6 GHz or similar

Memory: 8 GB RAM

Graphics: GeForce 900 series or similar

Storage: 600 MB available space
---
Linux requirements:
Minimum:
Requires a 64-bit processor and operating system

OS: Fedora 25, Ubuntu 16.04, SteamOS, Mint 18

Processor: 2.6 GHz Dual Core or similar

Memory: 4 GB RAM

Graphics: GeForce 700 series or similar

Storage: 600 MB available space
Recommended:
Requires a 64-bit processor and operating system

OS: Fedora 25, Ubuntu 16.04, SteamOS, Mint 18

Processor: Intel i5 2.6 GHz or similar

Memory: 8 GB RAM

Graphics: GeForce 900 series or similar

Storage: 600 MB available space
---