Immense Threat
Immense Threat is a classic-style adventure platformer in a futuristic setting. The game takes you on a quest to liberate the chickens from wicked Consumers.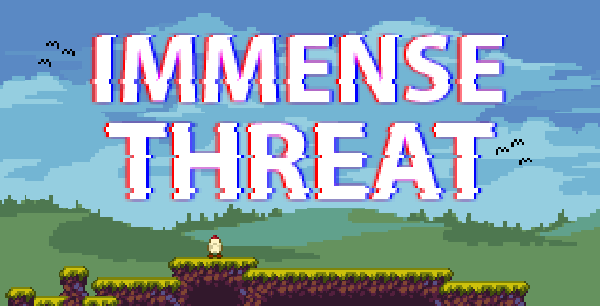 What exactly is this game?
It's a 2D platformer mixed with a shooter – at times you will simply jump from platform to another, avoiding traps. At other times, you will be forced to fight with enemies. Take aim and fire! Just be mindful – which weapon to use? Maybe conserve ammo and fight bare winged? Or maybe you can simply run right past through? You decide!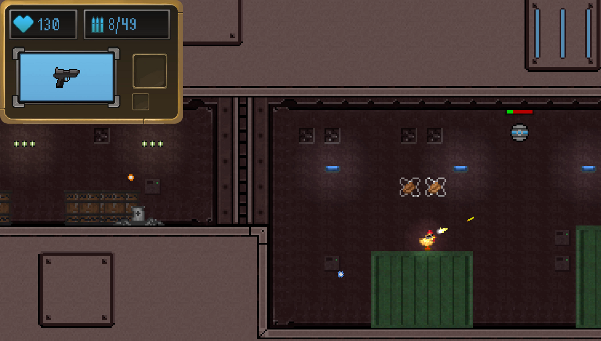 So what's the story?
In the future, the evil people, called the Consumers, will rise to power and exploit the livestock to the fullest. But a few chickens will not have that! Join the resistance group and show those Consumers, who the real Immense Threat is!

Anything else? Some features, perhaps?
Story with twists
Think everything is so simple? Well, that's not how the life is, goes double for these brave chickens!
Over 20 levels
The adventure consists of over 20 levels, riddled with deadly traps and dangerous enemies, along with powerful bosses.
Weapons and upgrades
On your quest, you will make use of 17 weapons – from ordinary stones, through pistols and rifles, to plasma guns. To further increase your chances of survival, collect the chicken currency, Middlings, or Midds for short, to buy upgrades between the missions. Also, try to look for secrets to gain additional advantage!
Speaking of secrets…
Also collect the Golden Midds to get additional, free power ups!
3 difficulty levels
Feeling confident? Try the challenging "Hard Out Here For a Rooster" difficulty level! Or maybe you've got an itchy trigger feather? Then you may want to check out the "Bigger Threat" level, in which… Well, let's just say, you won't have to worry about sparing ammo.
---
PC requirements:
Minimum:
OS: Windows 7

Processor: Intel Core2 Duo E7600 3.06 3.07

Memory: 6 GB RAM

Graphics: nVIDIA GeForce GTS 450

Storage: 300 MB available space

Sound Card: Likely, any
---
Linux requirements:
Minimum:
OS: CentOs 8.4

Processor: Intel Core2 Duo E7600 3.06 3.07

Memory: 6 GB RAM

Graphics: nVIDIA GeForce GTS 450

Storage: 300 MB available space

Sound Card: Likely, any

Additional Notes: Tested only on CentOs 8.4
---