Intruder on the Bridge
Intruder on the bridge
Intruder on the Bridge tells the story of Captain Dyce, a Galactic Union officer in command of the largest spaceship ever built: the Ventura. He will have to face a mysterious conspiracy that caused his brother's death. Unfortunately, all leaders of the Union seems to be involved in the conspiracy. Intruder on the Bridge is an adult visual novel that boasts to have six hours of content, with 3000 images and 30+ minutes of full HD videos. In addition to that, you will find some funny mini games (i. e. Shoot'em up and simple FPS). Players will interact with dozen characters, everyone with their own behaviour and background. Player's choices will change the developing of the story, as a warranty of many hours of fun. Are you ready to command the Ventura? And to flirt and seduce your hottest officers with your charm? If so… Don't miss Intruder on the Bridge!
Featuring
50 Full 1080p 30fps animations, often lasting minutes.
3000 images, 1920×1080 full HD resolution.
6-10 hours of gameplay.
Amazing space and ground combat minigames.
Replay gallery.
Captain John Dice


John Dyce (you), captain of the Ventura, flagship of the Galactic Union. Skilled strategist, esteemed captain and brilliant diplomat, John gained his rank within the Union assignment after assignment, achieving the best possible outcomes. However, during his last and most important mission, something went terribly wrong…
Commander Shodan


First officer of the ship, and second in command, is a Dustadian named Shodan. Dustadians are a race on the verge of extinction due to a serious disease preventing reproduction. By the way, Dustadians seems to be immortal, they may potentialy live forever, except for violent death. These caused a general attitude to live perched and safe. Shodan has a different vision, after his 459th birthday he decided he had to see new kinds of sunsets and enlisted.
Lieutenant Commander Miranda Call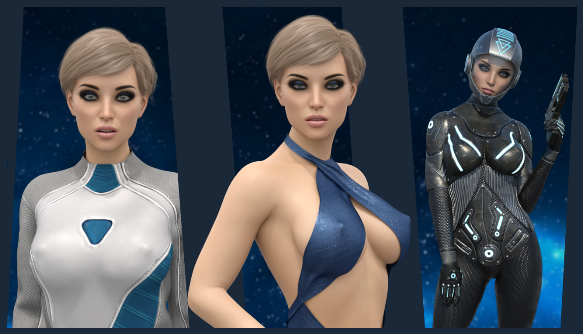 Chief scientist, she coordinates the biology, chemistry and astrophysics laboratory. World famous for being the granddaughter of Walter Call, the scientist who discovered the first working cure for theta radiation flu. Passionate, uninhibited, distracted. She has been promoted a few weeks ago and entrusted with the scientific command of the ship. She is ready to do almost anything to prove she's worth.
Ensign Arkin Goodman



Marine guard for almost three years; despite his low rank he was the one chosen by the captain as the ship's chief helmsman. He's an incredibly skilled pilot and surely he would have been already promoted at least to lieutenent if it weren't for a demerit for having disobeying a direct order during a mission in a critical situation.
Lieutenant Commander Alexandra White


Ship security chief, she's in charge of the ship security police and of the landing teams. She's trained in advanced combat techniques, guerrilla tactics and martial arts.
Lieutenant Commander Hiroshi Tendo



Ship's doctor, he directs the ship's three sickbays for a total of 300 beds, guiding 200 peoples made of doctors, nurses, civilians and officers. He tends to be a neat and flawless officer, he takes hhis work very seriously and often adopts small-scale methods. He puts honor as value before everything, even the Union and the Hippocratic oath.
Lieutenant Hinai Volex


Expert in cartography, navigation and xenoanthropology. Her race lives on a cold planet on the edge of the first sector of the galaxy, but she is considered a shaman by her people as one of the rarest with the dream ability to see the future.
Lieutenant Commander Turok


Argonian chief engineer, his race lives on the planet Argon, whose life does not develop on the planet surface, but in the subsoil. A peculiar a sphere of magma heats and gives light to the argonians while the cold and desolate surface is not habitable. Turok is an expert in starship engineering and hyperspace engines. He enlisted because he was the 3rd son of a local baron, customs wanted him enlisted in the royal guard, but he hated those customs and decided to enlist in the fleet.
Lieutenant Amanda Donovan


Responsible for the defensive and offensive systems of the ship, she commands the weapons systems and is the bridge officer who coordinates all the attack and defense sub systems during battles. Furthermore, she coordinates the fighter squadrons.
Lieutenant Cully Conner



Expert in robotics, automation and programming. She's under the direct command of Turok. She was recently promoted to lieutenent grade and assigned to Ventura.
---
PC requirements:
Minimum:
Requires a 64-bit processor and operating system

OS: Windows 10

Processor: 2.0 GHz Core 2 Duo

Memory: 2 GB RAM

Storage: 6 GB available space
Recommended:
Requires a 64-bit processor and operating system

OS: Windows 10

Processor: 2.0 GHz Core 2 Duo

Memory: 4 MB RAM

Storage: 6 GB available space
---