JAB!
Shoot, blow up or confetti your friends. JAB! is the physics-based party game where you collect silly bobbleheads and fight with guns, confetti and lightning bolts and stuff.
2 to 4 friends/enemies/strangers/bots you met on the street in either Local or Online Multiplayer
Physics-Based and very unpredictable combat
24 surprisingly cool levels
20 different over the top crazy weapons to maul JABBOs with
Over 40 different collectible JABBOs with different voices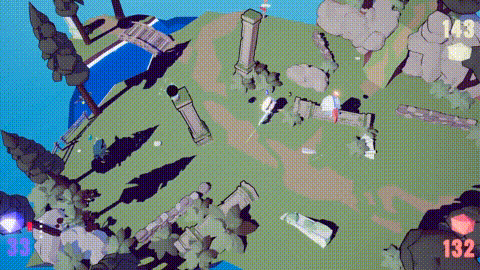 NO BORING GUNS
We're all done using AKs, RPGs and pistols. In JAB!, you destroy/murder/frag your friends/enemies/random strangers with internet famous armaments like the confetti cannon, fireworks launcher, dynamite, drone strikes and a sword that dashes towards the nearest enemy, like the one in the super famous game on the console made by an American company. Same level of destruction, but now with 100% more fun!
ONLINE & COUCH MULTIPLAYER
Sometimes you just want to blast your friends into orbit. Luckily, JAB can be played locally with 2-4 players. Stuck in quarantine? You can also play with them remotely, or decimate strangers in the online lobbies. No friends? No problem! Just add bots!
BUILD YOUR COLLECTION
Everyone gets a bunch of jabbos and weapons to start out and the more you play, the more stuff you unlock. Super simple!! Online, let the chaos commence. You can play with only confetti cannons, or only melee weapons (disclaimer: if I ever put any into the game). The host will decide what's available, so jump into someone else's lobby to discover new stuff, or create a lobby to show off your awesome rare jabbos. What a sense of accomplishment.
PARTICIPATION AWARDS FOR EVERYONE
Get dat points sis! Since everyone needs to be happy, you get awards for winning, destroying, falling out, using lots of weapons and almost everything else. The winner each game turns into LITERAL GOLD so it's easy to gank them next game. Players that lose gets these two words: git. gud.
NO MICROTRANSACTIONS, NO BULLSH*T
When you buy the game, everything is included and unlockable for free. Any updates, DLCs and additional content will be free forever. After all, if you buy the game, you're practically family.
---
PC requirements:
Minimum:
OS: Windows 7

Processor: Intel Core i5-7400 @ 3.00GHz | AMD Ryzen 5 1400

Memory: 4 GB RAM

Graphics: NVIDIA GeForce GTX 1060 | Radeon RX 580

DirectX: Version 11

Storage: 2 GB available space

Additional Notes: Internet is recommended for online play
Recommended:
OS: Windows 10

Processor: Intel Core i5-7400 @ 3.00GHz | AMD Ryzen 5 1400

Memory: 8 GB RAM

Graphics: NVIDIA GeForce GTX 1060 | Radeon RX 580

DirectX: Version 12

Storage: 2 GB available space

Additional Notes: Internet is recommended for online play
---