Joy the Pug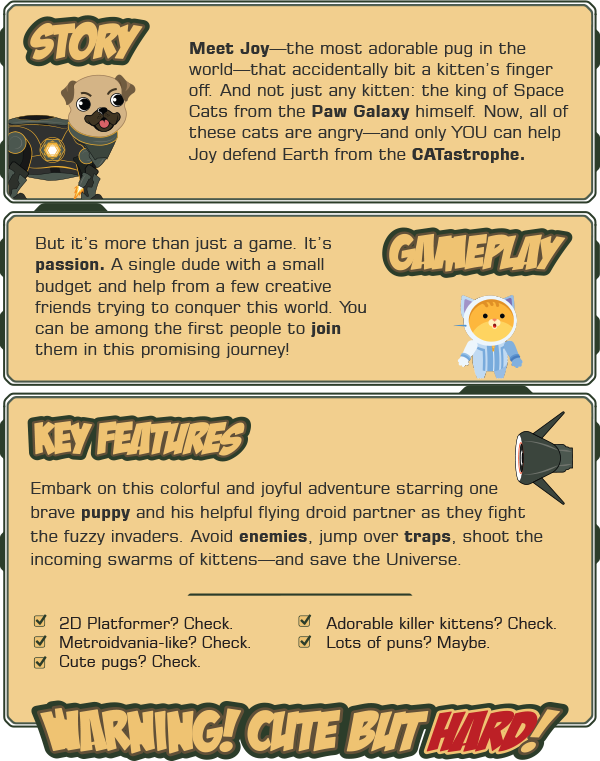 Story
Meet Joy—the most adorable pug in the world—that accidentally bit a kitten's finger off. And not just any kitten: the king of Space Cats from the Paw Galaxy himself. Now, all of these cats are angry—and only YOU can help Joy defend Earth from the CATastrophe.
Gameplay
But it's more than just a game. It's passion. A single dude with a small budget and help from a few creative friends trying to conquer this world. You can be among the first people to join them in this promising journey!
Embark on this colorful and joyful adventure starring one brave puppy and his helpful flying droid partner as they fight the fuzzy invaders. Avoid enemies, jump over traps, shoot the incoming swarms of kittens—and save the Universe.
Key Features
2D Platformer? Check.
Metroidvania-like? Check.
Cute pugs? Check.
Adorable killer kittens? Check.
Lots of puns? Maybe.
Does Joy the Pug have all the above? BINGO.
---
PC requirements:
Minimum:
OS: Windows 7, 32-bit

Processor: Intel Core i3 M380

Memory: 2 GB RAM

Graphics: Intel HD 4000

DirectX: Version 10

Storage: 202 MB available space

Additional Notes: You graphic card should support HDR & shaders
Recommended:
OS: Windows 7, 64-bit

Processor: Intel Pentium CPU 6405U @ 2.40GHz

Memory: 4 GB RAM

Graphics: Intel UHD Graphics 2GB, 128MB VRAM

DirectX: Version 12

Storage: 202 MB available space

Additional Notes: You graphic card should support HDR & shaders
---