Lava Rolling Kid
"Lava Rolling Kid" is an Arcade Adventure Platformer game in which the adventurer will have to race to the peak without dying from the rushing lava below. Various enemies will certainly attack, you must destroy them as fast as possible or else be burned alive! Do your best to rebound enemies to achieve the greatest number of possible points, collect diamonds, and perform spectacular combos to surpass records. Practice makes perfect in Lava Rolling Kid!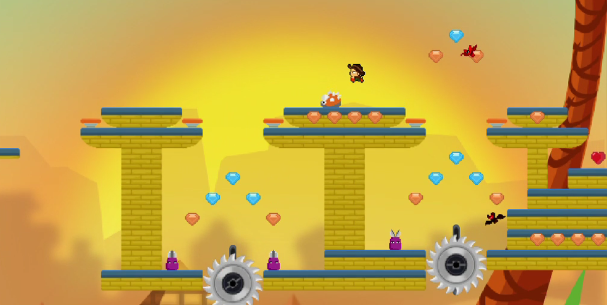 Retro style platformer with modern features/ combos for added replayability!
Arcade Mode: You must play one and more times to become good in this game.
Diverse levels, crazy enemies, and possibility of combos.
Make Combos! Jump over enemies holding pressed the 'Hit Button' and rebound jumping higher over others enemies.
Normal and Retro Mode: If you completed the game the 'Retro Mode' will be unlocked and you can play the game with retro resolution!
Access to special platforms using the 'Hit' button.
Fluid control and gameplay.
'Tutorial Option' where you can learn to control this game like a pro.
The difficulty of the game increases automatically every time that it surpass the last level.
Controls: 'XBox 360 GamePad' or 'Keyboard'.
---
PC requirements:
Minimum:
OS: Windows 10

Processor: Intel Core™ Duo or faster

Memory: 2 GB RAM

Graphics: OpenGL 3.0 video card

Storage: 1 GB available space

Additional Notes: Keyboard, Xbox360/One Controller
---