Legend of Fainn Dynasty ~Battles of Beautiful Warlords~
◆◇Game Story◇◆
There are two huge countries on the continent.
"Fainn" with women's supremacy dominated by an empress,"YangWei" with muscle supremacy dominated by an emperor.
Shinwan, who plans to slave women in the continent with Fainn which targets unification.Both ambitions collide and a big battle begins. Beautiful female warlords boasting power to kill thousands of enemies versus a million mercenaries led by military commanders with characters. Can female warlords survive the battlefield where force, intellect, skills mix together!?
◆◇Game Character◇◆


Twaori
CV:Nene Tsukimori
Empress who rules Fainn. The country is famous for the supremacy of women, and they use men as labor. She is beautiful considered even to be like a celestial woman, but she is a masochistic, mystical and scaring the enemies. She acts raging to men, but relatively gentle for women, and she also has aspects of a lesbian, such as inviting to her bed room. She is excellent in intelligence and plotting but also strong enough be one of the best five in the continent. She likes beautiful ladies and has made the costume of warriors also look sexy.
She wrapped her plump body in gorgeous clothes to show her beauty and lustiness.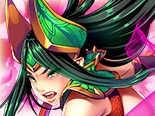 Jemei
CV:Mako Ayane
The strongest warlord boasted in Fainn. She even has scared 10,000 fierce soldiers by herself, and she is strong enough to be called as a warrior god by her enemy and ally. Being also the highest commander of the military and Fainn's faithful right arm. Although she is trusted by the people being severe in discipline and righteous, the soldiers are scared of her since she shows strength of a warrior enough to shiver enemy and ally in the battlefields. The closest warlords adore her for her strength. Being specialized in martial arts, there are many things she does not know other than warfare.
Beautiful tall having big boobs.
She wears armor that imitated a dragon swaying a weapon of her height easily. Yenmin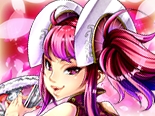 Yenmin
CV:Natsuka Hano
One of the warlords who is an important person in Fainn. Being a dancer, she cuts the enemy 's neck with a fan with a blade like dancing in the battlefield. A sexy appearance and a marvelous character to strongly attract the viewer. When she feels excited, she becomes obnoxious and rape men even in a battlefield. She even thinks anything is okay if she feels good, so she sees anyone as targets regardless of gender. She adores Twaori as her sister and wants to be in bed with her.
◆◇Game Point◇◆
・Dynamic battlefield design, real-time combat system
Instant battle makes the battlefield more variable, choose the best offensive route.
・Three types of systems based on changes in combat needs
According to the enemy formation and change the formation of the system, attack, and defense of the free switch.
・ Male and female generals with the event system, according to the battle of the generals configuration switch to different events show
The difference between the two sides will have different events and CG images.
・The big map occupies the system, occupying the blocks to make the fight favorable
The whole continent has a large number of occupied areas for the capture.
・A variety of army system
According to the different army, attributes and ability are also very different, according to the needs of the battlefield to adjust it.
---
PC requirements:
Minimum:
OS: WIN7 SP1/WIN8/WIN10/

Processor: 2GHz以上

Memory: 4 GB RAM

Graphics: DirectX 9 compatible graphics card

DirectX: Version 9.0

Storage: 2 GB available space
---