Lex Mortis
Lex Mortis is an open-world horror game set on a fully explorable island.
The game's atmosphere is directly affected by the time of day. During the daytime you will study the island and it's mysteries.
But at night the enemies reveal themselves, and the worst nightmare becomes real!

June 28, 2017, you return to your birthplace, Berdwood island, which is located in Northern Europe.
After spending a night on the island, you will discover that there aren't any living people, despite the fact that the population of Berdwood is about 2000.
You will stumble upon the frightening reality of what exactly happened to the inhabitants of Berdwood.
Eventualy, you will get a difficult choice, which will influence on the fate of inhabitants of the island Berdwood.
The game has two endings.

Berdwood island is a fictional island, which is located in Northern Europe. Berdwood island is the site of action of the game's story.
And you don't need to pass the main story as quickly as possible. The island is completely open from the beginning of the game, and it's filled with the history of its inhabitants. This island is quite big. It contains: forests, fields, abandoned villages, mines, mountains and more. There are also working vehicles which will help you to navigate faster through the island.
Berdwood island map: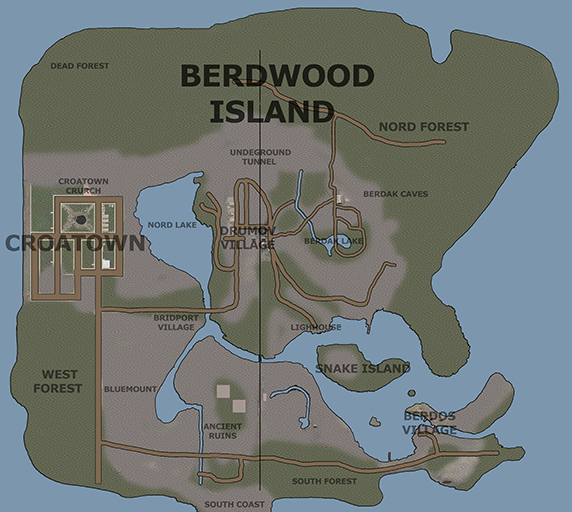 ---
PC requirements:
Minimum:
OS: Windows Vista, Windows 7 or Windows 8

Processor: Intel Core i5-750 or AMD Phenom II X4 955

Memory: 2 GB RAM

Graphics: Nvidia GTX 560 or AMD Radeon R7 250

DirectX: Version 11

Storage: 4 GB available space
Recommended:
OS: Windows Vista, Windows 7 or Windows 8

Processor: Intel Core i5-2400S or AMD FX-8320

Memory: 4 GB RAM

Graphics: Nvidia GTX 660 or AMD Radeon R9 270

DirectX: Version 11

Storage: 4 GB available space
---