Lianhai Billiards Club 连海台球俱乐部
We're working on it, so stay tuned!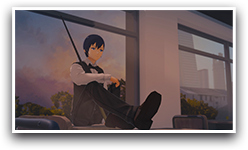 The main character is a student at Lianhai High School.
His father's alcoholism and violence kept him away from his family, wandering around all day, and his grades consistently ranked low.
One day, the hero is entrusted by his class teacher to hand in the class materials to his classmates, Xinsu.
At the billiard club run by Xinsu's family, he witnessed a scene in which Xinsu was harassed by a gangster.
By coincidence, he picked up a billiard cue and won the match without any billiard experience.
Xinsu, who admired the billiards talent of the hero, gave the hero the right to represent the club in the annual "Lianhai Billiards Club League" in Lianhai City.
The hero, who once lost his faith in life, gradually became a billiard star with the support of his partners.
But as the day of the game drew nearer, certain things changed.
Xinsu learned that his father, who had beaten the hero's father in the National League, made the hero's father had never recovered.
What will happen to Xinsu who knows about this…and how will the game change?


The game can be divided into two parts, "Role-Play" and "Billiards".
In Role-Play part, players can explore freely in the school and in the city of Lianhai, looking for plots that can be triggered and developing relationships with their partners.
As your bonding with your partners deepens, you can acquire special skills for use in billiard games. (e.g. sight line visualization, etc.)
Every once in a while, there will be an important billiard match event where players need to use their honed out abilities to win the match and advance the plot.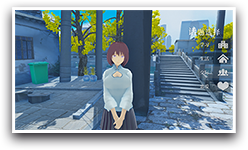 The player needs to select the topic of interest to the session object and only has a limited number of options per session.
There are also different branching options for each topic, so if the conversation is full of good feelings, something good will happen!



For the first time, the city of Lianhai, which appeared in "The Adventure of Fei Duanmu" and Code Creakers, can be explored in free 3D.
The weather system also allows you to explore Lianhai City in a variety of settings, including dusk, early morning and rainy night.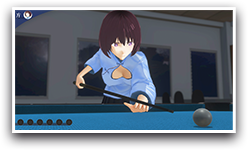 The central theme of this work, billiards.
Win the game by knocking the eight balls on the table into the bag.
A seemingly simple game, but in fact it's a test of brain and mental conditioning.
Here's to enjoying challenging different opponents!
---
PC requirements:
Minimum:
OS: Windows 7 SP1+

Processor: x86, x64 architecture with SSE2 instruction set support.

Memory: 2 GB RAM

Storage: 2 GB available space
Recommended:
OS: Windows 7 SP1+

Processor: x86, x64 architecture with SSE2 instruction set support.

Memory: 4 GB RAM

Storage: 2 GB available space
---
MAC requirements:
Minimum:
OS: macOS 10.12+

Processor: x64 architecture with SSE2.

Memory: 2 GB RAM

Storage: 2 GB available space
Recommended:
OS: macOS 10.12+

Processor: Intel Core i7-7700K

Memory: 4 GB RAM

Storage: 2 GB available space
---