Lolita Expedition trinity Demo

Traditional RPG integrates TRPG.
More freedom, more randomness and more imagination!
Lots of events, character interactions, field adventures and unspeakable dangers!
In this diverse world, everyone can play their own style.
But remember, this is not a TRPG.



The latest works in 《Lolita Expedition》 series
《Lolita Expedition Trinity》 (le3) and 《Lolita Expedition 13th Anniversary Edition》 (le13a) are the same series.
After le13a, the story of le3 is related to the plot of the two works, but the story is also independent. Even if the two works play alone, it will not cause inconvenience to the understanding of the plot, so don't worry.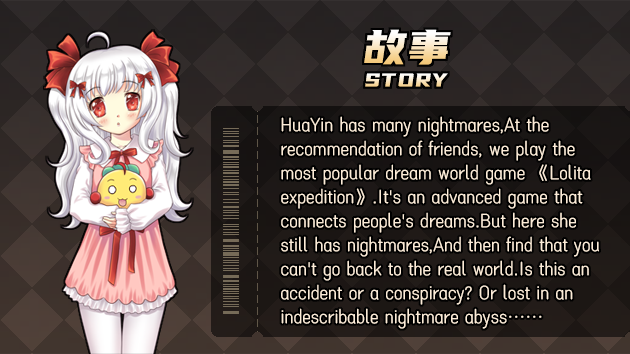 HuaYin has many nightmares,At the recommendation of friends, we play the
most popular dream world game 《Lolita expedition》.It's an advanced game that
connects people's dreams.But here she still has nightmares,And then find that you
can't go back to the real world.Is this an accident or a conspiracy? Or lost in an
indescribable nightmare abyss……



🌟 The narrative experience of the three protagonists from different perspectives,
Experienced the same suspense color, power struggle and mysterious strange event.
The interweaving of dream and reality creates a story of ups and downs.
🌟 You can explore freely in three different worlds.
It can expand the area gradually with the progress of the main plot.
🌟 There are 10 available characters with different personalities. Each of them has his own branch story.
(it will be expanded to 20 available roles through DLC in the future.)
🌟 Thousands of skills and equipment, colorful talent and career development system.
It has deep build construction and strategic hard core round combat experience.
🌟 Hundreds of different monsters. Ordinary, rare, god beast.
Each monster also has its own ecological and story background, changeable boss war experience!
🌟 The end of the dream does not mean the end, but a new journey.
The main plot clearance, role full level is just the beginning.
The final content is rich and colorful, but the liver can provide for the aged, everything depends on your choice.
🌟 Home system, building dream home in the virtual world.
It can also cultivate the feelings between the characters in the home to get special plot illustrations.
🌟 Every city can grow through investment,
Through their own efforts to change the world and their own destiny.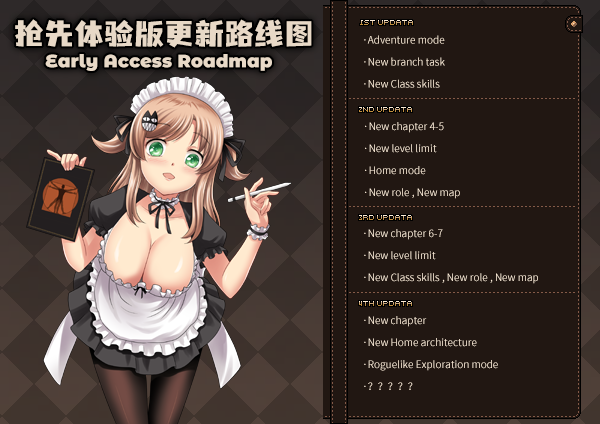 2022 will bring more updates!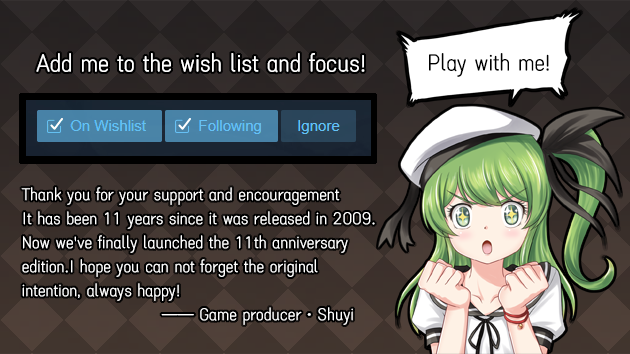 Bug feedback and play communication
Player QQ group: 101572030
Basic keys
Moving: direction keys
Investigation / confirmation: Z / space / enter
Menu / cancel: X / ESC
Running: shift
Full screen: Alt + ENTER
---
PC requirements:
Minimum:
OS: Microsoft® Windows® 2000 / XP / Vista

Processor: PC with 1.0GHz Intel® Pentium® III equivalent or higher processor

Memory: 256 MB RAM

Graphics: 1024x768 or better video resolution

Storage: 300 MB available space

Sound Card: DirectSound-compatible sound card
Recommended:
OS: Microsoft® Windows® XP / Vista / 7

Processor: PC with 2.0GHz Intel® Pentium®4 equivalent or higher processor

Memory: 512 MB RAM

Graphics: 1024x768 or better video resolution

Storage: 500 MB available space

Sound Card: DirectSound-compatible sound card
---