Mulligans Golf Game
Mulligans Golf Game is a Local Multiplayer (split screen), wacky, arcade golfing game. Gameplay is a combination of open world freedom and old school console split screen arcade style play surrounding a simplified yet challenging golfing experience. It is not a Sim but is designed to provide the scenarios and emotions that come when playing real golf. Players choose from the available pool of legendary characters and pre-built maps, playing solo, attempting to set new personal bests, going for course records (local and global leaderboards), or grabbing some friends and challenging each other to see who is the best!
What is there to do?
Play local matches competing against yourself. Personal Records (per character) and Local Leaderboards (per map) are maintained. Global Steam leaderboards are also implemented so you can compete against others for the top spot!
Local Multiplayer has up to 4 players with Steam's Remote Play enabled. So if you don't have someone local to play against, invite a friend over the airwaves! Play matches against each other and make in game wagers on who is going to do better (long drives, closes to the pin, and best score). Also, checkout the driving range for a few different game modes and see who can get the better score. Or just run around throwing golf balls at one another.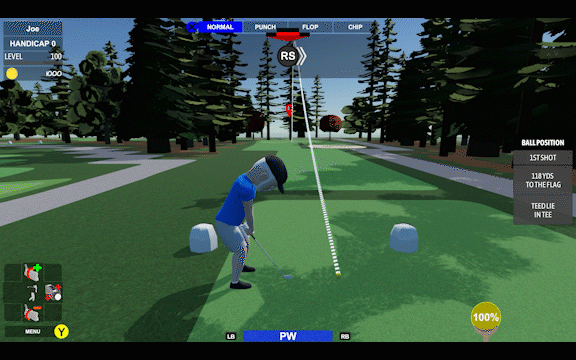 Taking a Swing
As a player, you are given all the tools you need, but must make the decision on what kind of shot (normal, punch, flop, chip), how to shape it (fade, straight, draw), and how hard to hit it. The game will not tell you any more than recommending a club to use. So lineup and take a few practice swings to determine your plan of attack. Practice swings will update the estimated shot trajectory, allowing you to determine if your current approach is going to work. Then it is up to you to replicate your practice swing once addressing the ball. And if you mess it up, hopefully you have one of your Mulligans available to redo it.
Current features include:
Preset Legendary Characters
Pre-built maps
Stroke and Skin match play
Wagers
Driving Range and Practice Greens for improvement (map specific)
Local Leaderboards, Character PBs (per course), Global Steam Leaderboards.
In game Achievements
---
PC requirements:
Minimum:
Requires a 64-bit processor and operating system

OS: Windows 10 (64 bit)

Processor: 1.80+ Ghz Intel Core i5

Memory: 8 GB RAM

Graphics: Intel UHD Graphics 620

Storage: 3 GB available space
Recommended:
Requires a 64-bit processor and operating system

OS: Windows 10 (64 bit)

Processor: 3.0+ GHz Quad Core

Memory: 8 GB RAM

Graphics: NVIDIA GeForce RTX 2070 or equivalent

Storage: 3 GB available space
---