Noara : The conspiracy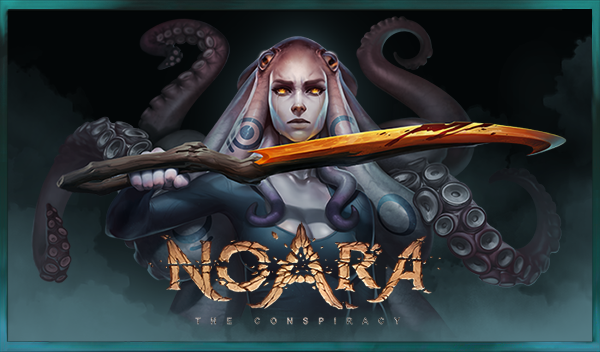 Noara – The Conspiracy revisits the turn-based strategy game and offers a new experience in an original heroic-fantasy universe.
A brand new genre (MOCA) and thanks to a unique mechanic, Noara offers you the possibility to play in real time during the opponent's turn !
Indeed, even during the defensive phase you will be fully active, you will have to show tactics but also speed of execution to counter at best the assaults of your opponent and destroy his stronghold to win.

Unity is strength – Noara is a competitive team game that will push you and your ally to the limit to reach the top. Go through these trials and progress step by step, choosing your brother in arms before joining the battlefield in 2 vs 2.
Solo Adventure – We'll also have a single player mode that teaches you the basics of combat in a progressive manner while offering some cool puzzles.
We strongly recommend you to play and replay this mode before searching for an online game.
Build your army – Choose your battalion carefully as the game progresses and adapt your own strategy. Together with your ally, you can choose the army composition that best suits your style of play, but also the strategy of your opponent!
Unlock Caste bonuses – The Caste system allows you to obtain powerful synergies and considerably improve the statistics of the units present on the battlefield. Currently there are 8 caste types per army, giving you a wide range of possible strategies.
Use your stronghold – The game ends when one of the two strongholds has been destroyed. Defend your stronghold at all costs and make good use of its skills to gain an advantage. Currently there are over 20 different skills, and the right use of each one can make a big difference to the outcome of a battle.
Manage your resources – The first battleground you will fight on is on the outskirts of the Crossroads, in the Carmine Forest. Here you will find many objectives, including harvesting areas. These areas will allow you to collect resources and exchange them for the money present in Noara: the "Khina".
Good management and use of your resources will maximise your chances of winning the war.
Buy, sell or get out – Djakpa's shop will amaze you with the variety of items it offers. You can buy items to strengthen your units, pay mercenaries, and even take advantage of the many services Djakpa offers, such as the ability to strengthen your stronghold to resist enemy assaults. Don't be mistaken, Djakpa seems very friendly, but he is only interested in your Khina wallet.
Fight relentlessly! – Noara combines the thoughtfulness of turn-based strategy games with the speed of real-time games. This unique gameplay mechanic brings great replayability and will make every battle a real tactical challenge.
Noara is a vast heroic-fantasy universe that extends far beyond the video game. Although two clans are expected to fight each other in our first game, there are many more to come in the Lands of Noara and if you want to know more, we invite you to read the first volume entitled "Noara – The Last Moon".
---
PC requirements:
Minimum:
Network: Broadband Internet connection

Storage: 4 GB available space
Recommended:
Network: Broadband Internet connection

Storage: 4 GB available space
---