Peachleaf Valley: Seeds of Love – a farming inspired otome

There comes a point in life when we are faced with overwhelming darkness. Times when nothing seems to go our way and despite our hardest efforts, it feels as if we still aren't rewarded…
And such is the case with our heroine, a young artist who has lived her whole life amidst looming skyscrapers in a superficial city.
One day, without notice, she loses both her job and her home.
Lost, frustrated, and with nowhere to go… she wanders through a farmer's market at a local park.
There she meets an elderly farmer who hails from a distant valley in the countryside. The man smiles at her, warmth and kindess radiating from his eyes, as he hands her a flower.
"You know… where I'm from, that flower there is usually given to people who leave on a journey, in a way to hope for prosperous new beginnings wherever they might find themselves."
And just as life is filled with despair at times, it comes to show us it is also filled with incredible wonder, beauty and adventure.
In a spur of the moment, our heroine decides to leave her old life behind and starts another one anew in a valley filled with flowers… where the sea, the sky and the earth all seem to meet.

Check out our main character and four current romanceable bachelors, each inspired by a different season, below! Apart from these five, there are plenty more characters waiting to meet you in the game, along with more potential romantic candidates!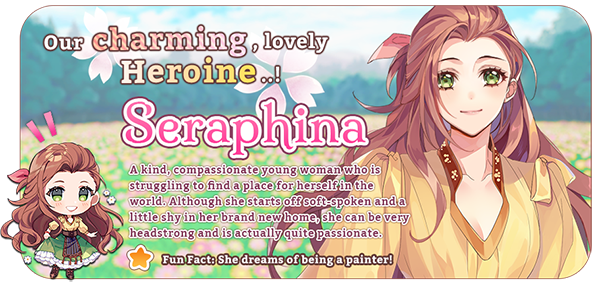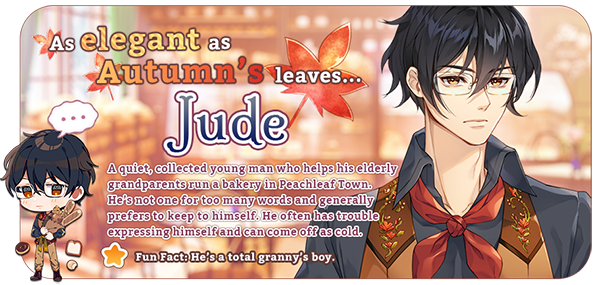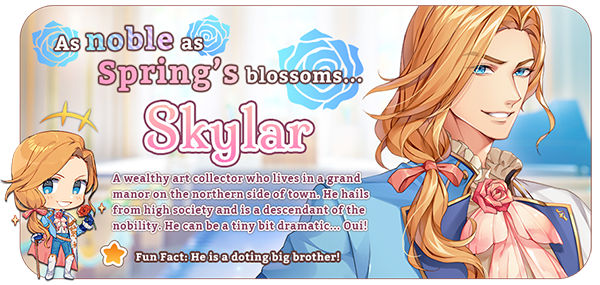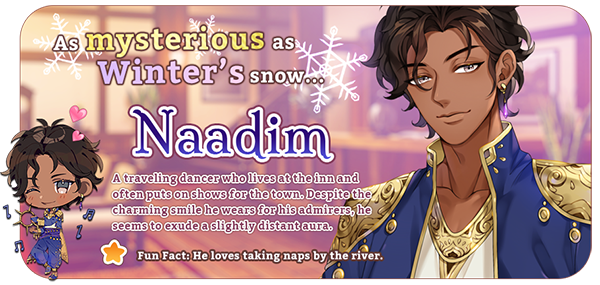 Peachleaf Valley features a variety of game-based interactions to increase the level of storytelling, such as:
Nameable Heroine: You can keep our MC's default name, Seraphina, or take the lead in the story yourself with a custom name! The choice is yours!
4(+) Different Romantic Routes: Each route features a unique and wholesome individual story, including NPCs and characters exclusive to each individual route. The heroine herself and her interests also differ slightly from story to story, so you'll have to play all of the routes to experience the full picture and meet the full cast!
HIS P.O.V Stories: Each route features a special chapter where the story is told from your lover's perspective. See the world and experience his thoughts and feelings about you through his very eyes!
Romantic CGs: In the more intimate moments of your relationship, experience what his embrace feels like firsthand with beautiful CG illustrations.
User Choices: Take control of your destiny by personally picking what you say or do in the story– but be careful, the wrong choice could lead to heartbreak!
Multiple Endings: The Good, The Bad, and The Secret Ending (Epilogues, if unlocked in stretch goals) can all be unraveled through your choices in the story! Determine your own fate and decide on your own ending!
Navigation System: Along with save and load slots, our game has an optional "Navigate" feature which allows players to revisit previously unlocked chapters in the story once they clear the whole route. Interested in going back to re-read a specific part in the story? Perhaps that steamy kiss scene?! No problem! With the navigation feature, you can easily go back in time!
---
PC requirements:
Minimum:
OS: Windows 7/8.1/10

Processor: Intel Core 2 Duo or better

Memory: 2 GB RAM

Graphics: DirectX/ OpenGL Capable GPU

Storage: 2 GB available space
---
MAC requirements:
Minimum:
OS: Version: 10.10+

Processor: 2.0 GHz Core 2 Duo

Memory: 2 GB RAM

Graphics: OpenGL 2.0

Storage: 2 GB available space
---