Printersim
Features
Many secrets
Original soundtrack
Contextual dialogue
Unique lore
Adoring family
Ramblings of a mad man
About the Game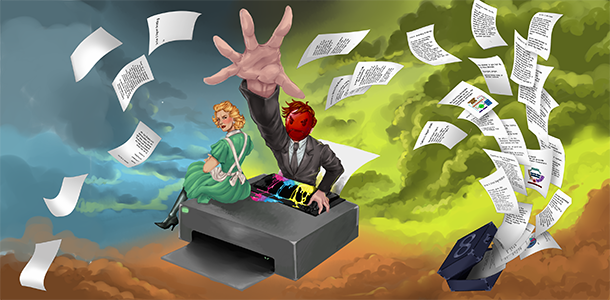 Greetings fellow Businessman,
A 60-page bluesky tactics report is needed on my desk within the next two weeks! Use your EasyPrint 3000 to get that report printed, pronto. And if I don't see anything on my desk by then, you can bet your bottom dollar there will be hell to pay.
– Your Boss.
You're a simple businessman, looking after your family and barely getting by. Hopefully, getting that end-of-month report out will give you that promotion you so rightly deserve. Only, your printer keeps running out of ink and your pocket out of money. Surely there must be some way to make ends meet?
With your patience running thin and your possessions vanishing around you, PRINTERSIM is a game about spiraling out of control where nothing is quite as it seems.
---
PC requirements:
Minimum:
OS: 64-bit Windows 7, 32-bit Windows 7

Processor: 2.4 GHz dual core

Memory: 2 GB RAM

Graphics: OpenGL 3.3+ Graphics Card

Storage: 100 MB available space
---