Puzzle Box
News:
The successor Puzzle Box Maker is now available exclusively for Nintendo Switch™
http://puzzlebox.bplus.at


Puzzle Box
Puzzle Box is painting with creative gameplay! Create fantastic pixel art images, by dropping your colour paint blocks in the correct place across the levels.
Badges :



Create colourful bold images in the classic colour-by-numbers mode. Whatever your age, Puzzle Box puts the joy and addictiveness of creativity in your hands, but with an added challenge.
Then you can use them as levels in other Modes with different action gameplay – it is a simple way to enjoy Pixel Art in different ways.
Modes for Creation:
– Classic Mode with scrolling
– Copycat Mode for still images
Modes to play in the arts:
– Boom Mode
Destroy your own made pixel art with a limited amount of bombs
– Run Mode
Run and Jump with Marshmallow Boy Roy on the top of your pixel art level and collect all the Combo Coins
– Kubi Mode
Pixel Hero Kubi has to collect all the colorful Pixel Flies and to feed his little dog within the Pixel Art, but be careful, evil shadow man are all around you
– Claw Mode
Control a flying Plattchen with a chain and a claw to kidnap all the Combo Coins in the polished Art environment. Avoid touching obstacles and watch the time.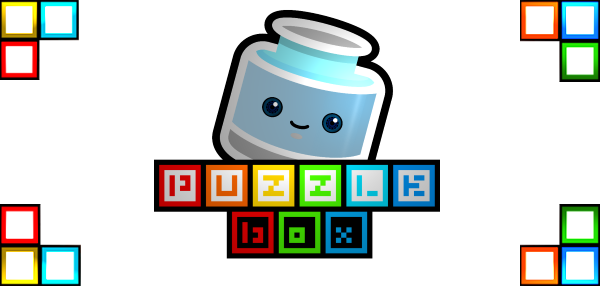 FEATURES :
*Enjoy collecting all the Combo Coins and clear all 180 levels
*More Than 7 Different Game Modes, with Different Styles of Pixel Art Gameplay
*2 Levels of Difficulty in All Modes, for Relaxed or Challenging Gameplay
*Flexible Controls (Mouse+Wheel+Keyboard)
*Have Fun Creating Your Own Pixel Art
*Share Your Hand Crafted Levels With Players from Around The World
*Super Easy to Pickup Up and Play, but Very Addictive
*Relaxing Background Music
*Combo Coin Rewards for Special Pixel Precision and Creative Speed
*Amazing Painted and Animated Backgrounds, Great for all ages
Blending fun and creative gameplay, Puzzle Box has everything to keep your mind and reflexes sharp while enhancing your creative skills.
Paint yourself Happy.

---
PC requirements:
Minimum:
OS: WINDOWS XP / WINDOWS VISTA / WINDOWS 7 / WINDOWS 8 / WINDOWS 10

Processor: Any 64 or 32 bit processor

Memory: 1 GB RAM

Graphics: DirectX or OpenGL Compatible Video card

Storage: 350 MB available space
---
MAC requirements:
Minimum:
OS: OS X 10.6 or greater

Processor: Any 64 or 32 bit processor

Memory: 1 GB RAM

Graphics: DirectX or OpenGL Compatible Video card

Storage: 225 MB available space
---