Reloader: test_subject
Join the Official Discord!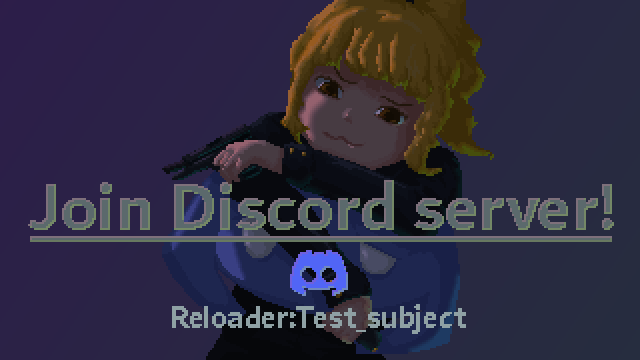 Join the Reloader Discord server and interact with developer directly!
The Reloader Project
Reloader: Test_subject is a prologue of the Reloader Project. Reloader Project is planed to be made in two chapters, Reloader: Alpha and Reloader: Beta.
Read more about the Reloader Project:
https://www.neverthelessstudio.com/reloader-project
About the Game
Reloader: test_subject is a bullet-counting reload action game. It is inspired by numerous masterpiece gun action movies and indie game 'Receiver'.
In Reloader, you can experience both realistic gun maneuvering and movie-like gun action. Become the Reloader who have the amazing gun shooting skill but no knowledge about the gun, and experience realistic CQB (Close-quarters combat).
Features
Insert magazine, pull the slide, and insert bullet in camber. You need to handle all reload actions manually.
Poor and the untrustful firearm will make unexpected malfunction and make you fall in danger. keep calm and response to malfunction as fast as you can.
No one tells you how many bullets remain in your magazine. count bullet and make the best timing to reload!
Experience tactical combat with realistic stopping power.
Enjoy the combination of retro pixel art and a modern lighting system.
Synopsis
You woke up in the unfamiliar building. your hands are tied and the gun gripped gang aims his gun on your neck. A passerby (self-named) spy helps you and saves your life, but she looks like try to make you to the test subject of the new unstable technology.
You became the test subject of the suspicious gadget that loading the legendary agent's skill and you get amazing shooting skills. Unfortunately, this horrible gadget full of bugs and errors couldn't load any memory about gun and reload skills.
But keep calm and start one by one. Grip your mag, insert in your gun, and pull the slide to feed the bullet in the chamber. Now you are ready to fight.
The only provided things in your hands are one pistol and some of the mags. Now you need to escape from the building full of armed gangs alone!
---
PC requirements:
Minimum:
OS: Windows 7, 8, 8.1, 10

Processor: Any processor w/ a clock rate of 2 GHz

Memory: 1 GB RAM

Graphics: 512MB of VRAM

Storage: 200 MB available space
---