Rhythmic Retro Racer
Update Notes
v 1.03
* Some bugs fixed(hiscore not saved in cyberpunk map, pressing space crash the game)
* 15 achivements added
* Practice mode added
* Score will not saved in practice mode, and cant unlock a new car
* New UI and New Logo created
* 3 kind of scores(according to hardness level) added
* Delete save button added
* Added decreased time animation when you lost second in time challenge mode
* Level names fixed
* Flashing car light disabled, environment lights added
* UI animations added for cyberpunk map
Warning: You need to delete your save files in order to work everything correctly, there is "delete save games" button in options menu. You can continue your game without delete them, but some of the new stuff will not work.
if you experiencing any problem please contact us
[email protected]
https://discord.gg/b49N2y7
About the Game

Rhythmic Retro Racer is arcade racing game where you can drive retro sports car in a 80's neon illuminated 3d world. There are 3 kind of gameplay;
1) Rhythm mode offer rhythm based gameplay, where you have to escape from obstacles and collect notes, based on music rhythm!
2) Time challenge mode is where you have to drive fast and clear checkpoints as fast as possible, where you can collect some nitro and bonus items! The most fantastic thing is all tracks generated procedurally, so there is no equal two race!
3) Free ride mode is where you can drive freely, without any pressure. We call it zen mode sometimes… (this will be availible in next update)
All those fantastic artwork and graphics are AAA quality and beyond the indusrtry standarts, using latest shader technologies, and powerful tools of Unreal Engine. Game offer hypnotizing and relaxing endless hours of gameplay.
* * * * * * *
Each level have different concept, such as thrilling dark mystic map, futuristic map, cyber punk map etc… you can select the level while choosing VHS's… All synth wave soundtracks are originally made specially for game and made by great composer Selcuk Ergen.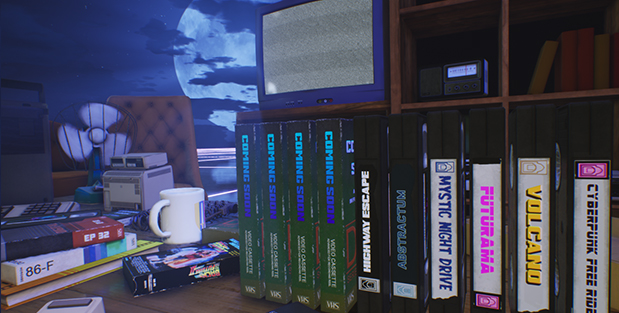 ---
PC requirements:
Minimum:
OS: windows 7

Processor: i5

Graphics: geforce gt 1030
Recommended:
OS: windows 7,8,10

Processor: i7

Graphics: gtx 970
---