Rocking Legend
Rocking Legend is a musical game where you take the part of a virtual guitarist immersed in beautiful and dynamic environments.
Choose from a selection of guitars and original rock/metal inspired instrumental songs and compete on the global leaderboards the way you like, with your preferred control scheme and a selection of gameplay modifiers.
You can also play with custom songs (integrated editor and support for external .chart or .mid maps made with external tools).
3 ways to control the guitar:
Finger tracked (only index controllers at the moment)
fingers can interact individually with the frets over the virtual guitar's fretboard while strumming with the plectrum on the other hand. Both left and right-handed guitar models are available.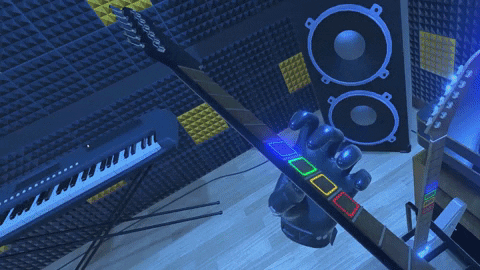 Hand tracked (Index/Vive/Oculus or others)
move your hand on the virtual guitar handle interacting with keys, while strumming with the plectrum on the other hand
PC Keyboard / Physical devices
embrace your pc keyboard like a physical guitar, or plug-in your preferred PC/Console guitar or gamepad controller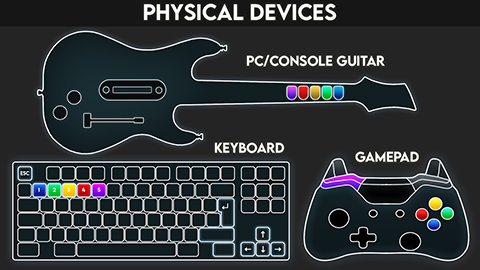 Gameplay modifiers:
Customize your experience with gameplay modifiers:
– note speed multipliers
– time scaling
– down-strums only
– random dynamic lane speed
– free plectrum movements
– automatic plectrum
– more to come!
12 original songs:
With multiple maps in 2 groups (hand or finger tracked), with different difficulty of execution, note travel speed and number of playable notes (3 to 5).
3 game modes:
Free play: choose the level you want and try to compete on the global leaderboards
Training: no game over, choose a level and relax or train yourself to become a better player
Song editor: load your own song, record and edit your notes and make your personal levels
---
PC requirements:
Minimum:
OS: Windows 7/8.1/10 (64bit)

Processor: Intel Core i5-4590 or AMD FX 8350

Memory: 8 GB RAM

Graphics: NVIDIA GTX 970 or AMD Radeon R9 290 or greater

DirectX: Version 11

Storage: 1 GB available space
Recommended:
OS: Windows 7/8.1/10 (64bit)
---