Sail Forth
Please Wishlist and Follow – It really helps
As a very small team, every Wishlist and Follow on Steam goes a very long way for us.
https://store.steampowered.com/app/1031460
About the Game
Experience the Deepblue!
Put the wind to your back and cast out into High Adventure over a vast ocean spanning numerous unique regions, each packed to bursting with its own flora, fauna, and ambient music.
Make chase with a pod of curious dolphins, watch the sun sink into an icy horizon, run down a clutch of cowardly privateers and accept their apologies to the tune of wild cannonry.
Your sails are filled to billow and you're nosing into countless possibilities.
Fathom a Mystery!
It's said, by some, that the Deepblue was once an endless breadth of sand and steel and tall-tops and glitter-brittle, and that the ocean's weight belched up from the smoulder and crush of an ancient secret, an Iron Maelstrom, a Famine of the Sky.
What will you uncover on your cut across the crest and baffle of the 'blue? Will your adventure win you answers? Will you discover the riddle of the sea?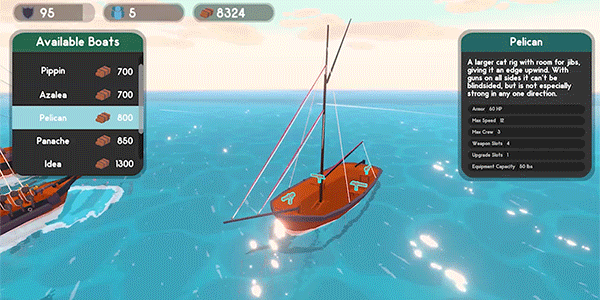 Fire All Guns!
Cry havoc! Man the round shot and let scream the demi-cannon!
Buy, equip, upgrade, and modify your ships' armament to suit your play-style.
There's war on the water, and it's up to you to outfit your ship and make ready to stove and shatter any pirate, privateer, or sea monster martial enough to shiver your timbers.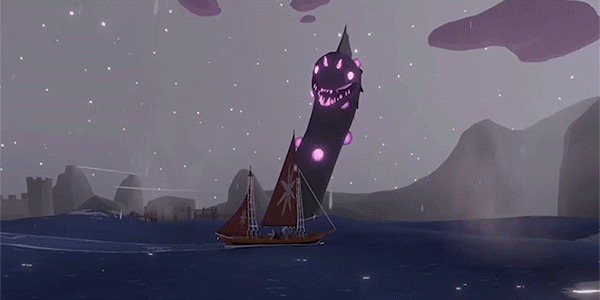 Ride the Wind!
Catch a bellow and feel the hearty push of full sails. Surge and sway with the rip and roil of rolling waves.
Tack and jibe and heave and cut with a ship and sea realized with enough attention to realistic sailing physics to keep a naval enthusiast engaged while remaining deeply accessible to everyone.
Casual or complex; how you Sail Forth is up to you!
Command a Fleet!
Why captain a single ship when you can marshal an entire flotilla?
Build, manage, and modify a custom cadre of unique and specialized vessels to match your own personality and play-style.
Make ready your sea-stance and take to water with a cannon-bristling clutch of wood, iron, canvas, crew, and ambition.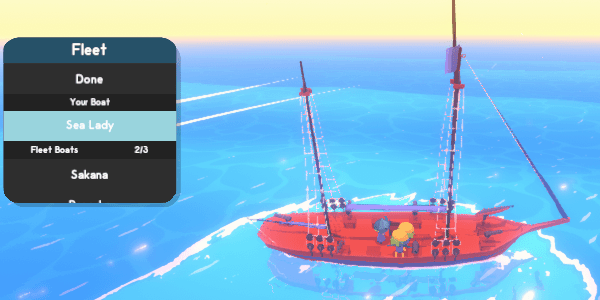 Re-Live Adventure!
Stay engaged with a replayable rogue-lite experience whose narrative is revealed through free exploration in an ocean-world of ever-changing discovery.
Lean into a chill sailing session or wage raging war on the cracking waves.
On the Deepblue, opportunity is in every direction, and sinking your ship is just the start of another adventure!
The Deepblue beckons with the promise of High Adventure! Sail Forth!
As a very small team, every Wishlist and Follow on Steam goes a very long way for us.
https://store.steampowered.com/app/1031460
---
PC requirements:
Minimum:
OS: 7

Processor: Intel i5 2.3GHz

Memory: 4 GB RAM

Graphics: Intel HD Graphics 4000

DirectX: Version 9.0

Storage: 300 MB available space
Recommended:
OS: 10

Processor: Intel i7 2.3GHz

Memory: 8 GB RAM

Graphics: NVIDIA GeForce GT 750m

DirectX: Version 12

Storage: 300 MB available space
---
MAC requirements:
Minimum:
OS: 10.1.1

Processor: Intel i5 2.3GHz

Memory: 4 GB RAM

Graphics: Intel HD Graphics 4000

Storage: 300 MB available space
Recommended:
OS: 10.14.3

Processor: Intel i7 2.3GHz

Memory: 8 GB RAM

Graphics: NVIDIA GeForce GT 750m

Storage: 300 MB available space
---
Linux requirements:
Minimum:
Processor: Intel i5 2.3GHz

Memory: 4 GB RAM

Graphics: Intel HD Graphics 4000

Storage: 300 MB available space
Recommended:
Processor: Intel i7 2.3GHz

Memory: 8 GB RAM

Graphics: NVIDIA GeForce GT 750m

Storage: 300 MB available space
---