Shargad First Blood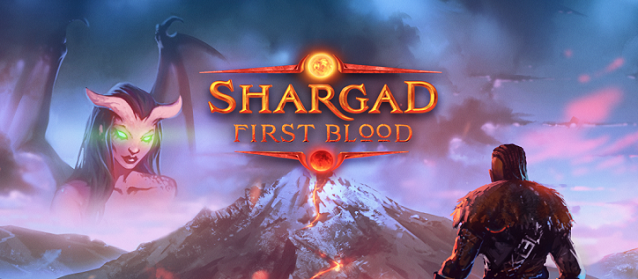 "Find Khalid, the Healer of Nekkisari. He will tell you the truth, the truth about you!"
These were the last words spilled out of his father's mouth. Abbas had an urge to follow the old man's request and decided to leave his village to find the Healer. What he could not realize though, was that the blood he bore is indeed a legacy, sourcing from the ancient corners of the history of Shargad.

Story driven 2D Turn Based RPG.
Sidescroller quest scenes where you can find loot and encounter various enemies.
3 Cities/Towns where you can meet companions, interact with NPCs, buy and sell items.
Daily Professions where you can get bonus rewards by playing mini games.

26 unique classes to play as, including 3 classes – Skirmisher, Warden, Herbalist – of main hero Abbas in the party of max 4.
Bunch of unique skills for each class and perks to modify the skills for customization. Synergetic party compositions.
Permadeath for companions. Mortal Blood mode where permadeath is applicable even for Abbas.
Permanent (Racial, Cultural, Class) and Temporary (Mental, Physical, Sicknesses) Traits to effect attributes and playstyles of heroes.
More than 50 enemies to face with, each with unique skills and traits.
Bosses: Deadly but not unbeatable.
Animals: Hunt in the wilderness to gain loot and exp.
Undead: Well, undead!
40+ character states (bleeding, callous, feebleminded etc.) which are all unique on their own.
Various dmg types: Physical, Magical, Pure.
6 Magical dmg types (fire, earth, water, air, dark, light) which can be mitigated by resistances but can not be dodged unlike Physical dmg.
Fame system which changes the behavior of NPCs and companions towards Abbas.

Set in the fantasy world of Shargad, a home to various races, cultures, cities, heroes, magic disciplines and more.
Inspired by Mesopotamian Mythology for the gods pantheon, various mythologies and cultures which is the basis of this organic fantasy world.
Strong narrative connections to Shargad Saga Book 1: The Thunderbringer, written by Semih Erdogan and first published in 2017 of which you can find the first 5 episodes in a pdf given as a free dlc along with the game.
---
PC requirements:
Minimum:
OS: Windows XP+

Processor: 2.0 Ghz

Memory: 2 GB RAM

Graphics: Open GL 3.2+ Compliant

Storage: 3 GB available space

Additional Notes: 1080p, 16:9 recommended
Recommended:
OS: Windows 7+

Processor: 2.9 Ghz

Memory: 4 GB RAM

Graphics: Open GL 3.2+ Compliant

Storage: 3 GB available space

Additional Notes: 1080p, 16:9 recommended
---
MAC requirements:
Minimum:
OS: OSX 10.9+

Processor: 2.0 Ghz

Memory: 2 GB RAM

Graphics: Open GL 3.2+ Compliant

Storage: 3 GB available space

Additional Notes: 1080p, 16:9 recommended
Recommended:
OS: OSX 10.9+

Processor: 2.9 Ghz

Memory: 4 GB RAM

Graphics: Open GL 3.2+ Compliant

Storage: 3 GB available space

Additional Notes: 1080p, 16:9 recommended
---
Linux requirements:
Minimum:
OS: Ubuntu 18.04

Processor: 2.0 Ghz

Memory: 2 GB RAM

Graphics: Open GL 3.2+ Compliant

Storage: 3 GB available space

Additional Notes: 1080p, 16:9 recommended
Recommended:
OS: Ubuntu 18.04

Processor: 2.9 Ghz

Memory: 4 GB RAM

Graphics: Open GL 3.2+ Compliant

Storage: 3 GB available space

Additional Notes: 1080p, 16:9 recommended
---