Shell Out Showdown
A food-fight, reverse battle royale where everybody stays in the game until one player gives out all their items and remains empty handed to win.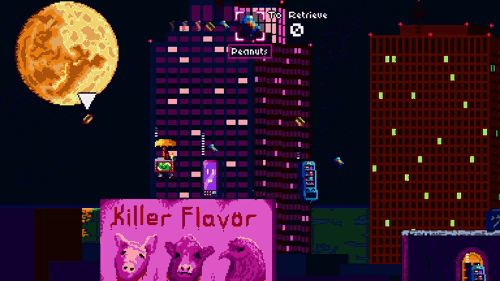 Choose your anthropomorphic vending machine and get to food tossin'!
Hectic and simple platforming gameplay. Dodge food and throw food!
Customize your character with different colors, effects, trails and even buddies!
90's Inspired pixel art and FM-Synth-heavy, Jazzical music
Levels in various locations such as a mall and the French Quarter, with a junkyard, a radio tower and more to come!
Join the public lobby or create private lobbies for you and your friends to play!
Humanity is gone, all that remains is the tech they left behind. Learn from their mistakes, be generous and care about others! 🙂
Made with game engine LÖVE, pixel art tool Aseprite and music tracker Milkytracker.
This project is under active development with new customizations, characters and levels added routinely!
The story behind Shell Out Showdown
Shell Out Showdown is part of what has retroactively been termed a "molasses jam" run by the Bay Area Dev Collective. The theme of the jam was to make a violent genre non-violent. I picked the battle royale genre as it tends to be dominated by violent games, and Shell Out Showdown eventually came to life!
The other molasses game jam games are also on Steam:
https://store.steampowered.com/app/1585350/Cooperative_Chess/
https://store.steampowered.com/app/1603590/My_Cousin_the_Rogue/
https://store.steampowered.com/app/1603520/Save_Data/
---
PC requirements:
Minimum:
Requires a 64-bit processor and operating system

OS: Windows 7 SP1

Processor: Dual Core 1Ghz

Memory: 2 GB RAM

Graphics: OpenGL 2.1 or OpenGL ES 2-capable graphics card

Network: Broadband Internet connection

Storage: 100 MB available space
Recommended:
Requires a 64-bit processor and operating system

OS: Windows 10

Processor: Intel i5-4200 Quad Core 1.6Ghz or better

Memory: 4 GB RAM

Graphics: Intel HD Graphics (integrated card) or better

Network: Broadband Internet connection

Storage: 100 MB available space
---
Linux requirements:
Minimum:
Requires a 64-bit processor and operating system

OS: Ubuntu 16.04+ or equivalent

Processor: Dual Core 1Ghz

Memory: 2 GB RAM

Graphics: OpenGL 2.1 or OpenGL ES 2-capable graphics card

Network: Broadband Internet connection

Storage: 100 MB available space
Recommended:
Requires a 64-bit processor and operating system

OS: Ubuntu 16.04+ or equivalent

Processor: Intel i5-4200 Quad Core 1.6Ghz or better

Memory: 4 GB RAM

Graphics: Intel HD Graphics (integrated card) or better

Network: Broadband Internet connection

Storage: 100 MB available space
---