Steampunk Timer
Steampunk Timer is a Dilated Time Tactical Action game that combines classic real time strategy with a roguelite progression and reward system. It takes place in a dystopian Victorian-style city dominated by the uncontrolled use of machines with the capacity to fold time.


In the industrial city of Victoria, the wealthy lords of the Manorborn Society possessed technology capable of folding time to enrich themselves indefinitely – until now. Faced with the growing impoverishment of the working class, the Traveling Theater Guild summons its actors to master this technology and give the aristocracy a show they will never forget.
And what about you? Are you the protagonist or a figurant?
Features
Tactical action with dilated time strategy. Make use of your time machine and enter Dilated Time Mode (DTM). It slows down the time around you so you can choose the best tactic to ambush your enemies.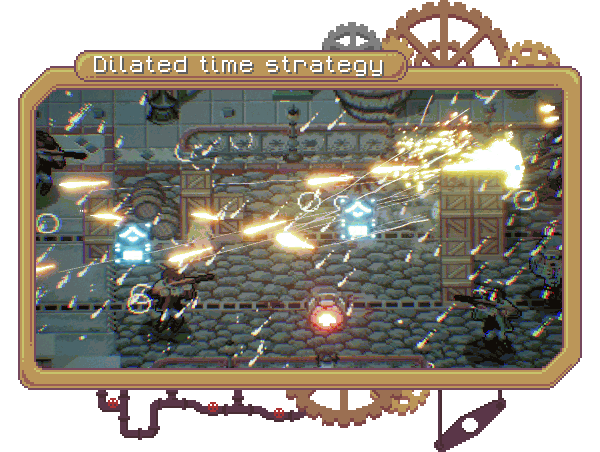 Roguelite game system. Choose up to 6 characters in a run, select one of the routes generated after each mission and buy the most suitable improvements for each situation. You will be defeated, but do not despair. In each new beginning, you will be wiser than before.
Pixel-art style graphics. Enjoy the pixel-art style of its settings and the fluid animations of its characters, drawn frame by frame, pixel by pixel.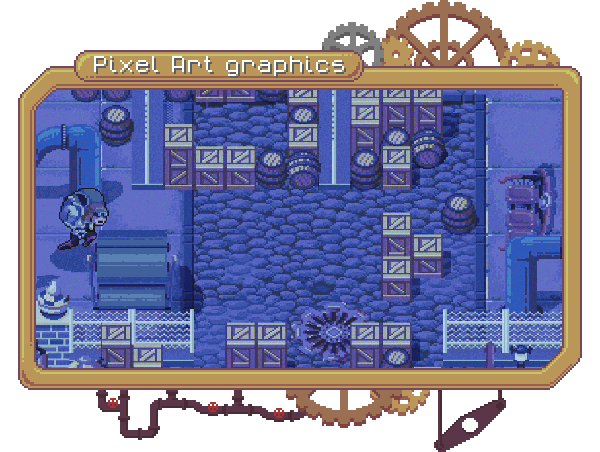 4 bosses to defeat. Complex and spectacular battles that will require preparation and quick reflexes. Too easy? Fight hordes of enemies guarding secret rooms or face the Infinite Basement challenge.
10 charismatic characters with unique abilities. Choose the Hunter to make quick ambushes, or the Assault to shoot at medium range, but don't forget the Scout to collect and distribute resources among his allies. Combine your characters to create the most fearsome unit in Victoria City.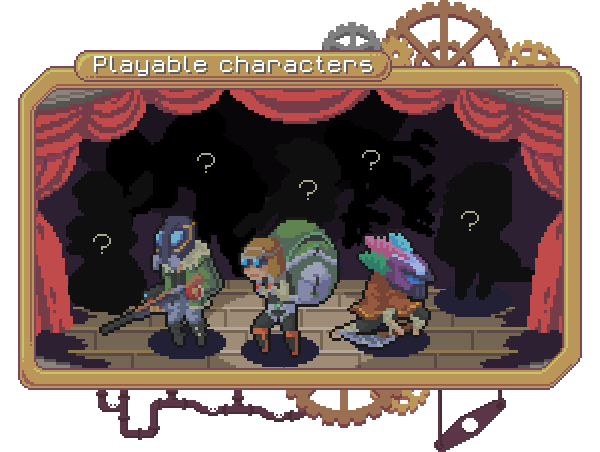 200+ upgrades and equipment to unlock. Were you planning to send your actors to the dangerous streets without good equipment? Get food rations to unlock gear and upgrades that will only be available during the current run. Also, get scrap metal and repair the Railway-Theater to unlock equipment which can appear in your next runs.
50+ fully destructible scenarios in 15+ different biomes. Clear that street. If you choose to go north you will go through that building; if you go south you will arrive at the port crossing a park. Choose your route at the end of each mission and contemplate the beautiful places that Victoria City has prepared for your visual delight. But do me a favor and don't reduce the city to rubble on your way, would you kindly?
---
PC requirements:
Minimum:
Requires a 64-bit processor and operating system

OS: Windows 10 64-bit

Processor: Intel Core 2 Quad 2.33GHz or AMD FX-4300 Quad Core or equivalent

Memory: 4 GB RAM

Graphics: NVIDIA GeForce GTX 950 or AMD Radeon R7 360 Series or equivalent

DirectX: Version 11

Storage: 4 GB available space
Recommended:
Requires a 64-bit processor and operating system

OS: Windows 10 64-bit

Processor: Intel Core i5-7300HQ 2.50GHz or equivalent

Memory: 8 GB RAM

Graphics: NVIDIA GeForce GTX 1060 or equivalent

DirectX: Version 11

Storage: 4 GB available space
---