Switchcars
Escape alien beasts across varying environments and eras, in more than 1300 unique vehicles!
For each procedurally generated stage you're given some time to traverse it before the aliens catch up. When they do, you're still given the chance to fight them off or escape. This can be done by driving over 1300 vehicles found on your way. You can carry three vehicles with you, and switch between them at any moment. Not every vehicle is ideal for a given environment or situation, or they can be damaged and run out of fuel — so you'll need to change them often, and cleverly!
You are probably not going to make it till the end the first time. Each attempt, however, you'll get a little bit better. Bit by bit, you'll reach the final stage and escape the spacetime alien invasion in the year 2055. Every run is completely different and high replayability is key!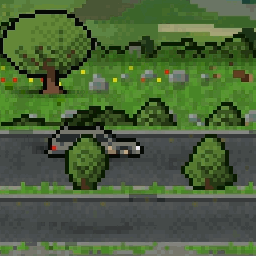 Characteristic vehicle switching mechanic
1300+ unique vehicles
Procedural environments (100 lane types, 150+ props)
Time travel (1950 – 2055)
Vehicle upgrades (40 powerups, stackable on any vehicle)
Vehicle editor and content browser
Immense replayability
High fidelity and polish
---
PC requirements:
Minimum:
Processor: 2.5 GHz

Memory: 2048 MB RAM

Graphics: GeForce 6600 GT / Ati Radeon 9800XT

Storage: 200 MB available space
---
Linux requirements:
Minimum:
Processor: 2.5 GHz

Memory: 2048 MB RAM

Graphics: GeForce 6600 GT / Ati Radeon 9800XT

Storage: 200 MB available space
---