The Path of Ren
The Path of Ren is a 2D precision platformer set in an anime-inspired world between life and death. Those who lacked fulfillment in their lives arrive in this world when they die.
Take on challenging, unique, and rewarding platforming challenges in a game that explores what it means to live a fulfilled life.
5 zones, unique in their appearance, mechanics, and themes – making up hundreds of platforming challenges.
Full of detours and hidden paths that expand on a creative, lore-rich world.
A carefully written story that explores what it means to live a happy and fulfilled life, explored from several different perspectives.
Heavily inspired by various anime and Studio Ghibli movies.
A difficult, but rewarding precision platformer game at it's core.

Take on extremely difficult and precise, but also rewarding platforming!
The controls are simple and intuitive to learn. You can run, jump, and climb on the walls and ceiling. You will die A LOT – but guess what? The character is already dead! So there really aren't any consequences. Trial and error is key!
Different orbs will allow the player to use special moves – enabling a uniquely challenging platforming experience! Check out the below clip which uses Dash Orbs to perform the Dash move!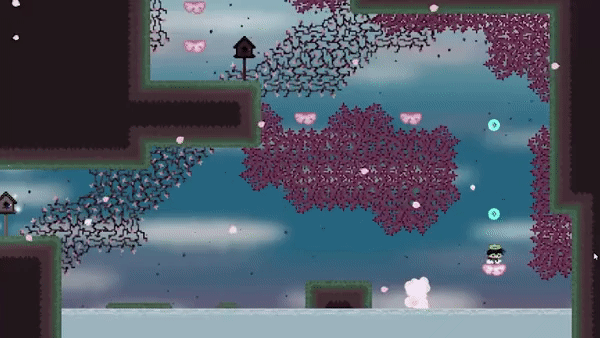 Explore a hand-crafted, pixel-art world rich with lore!
The Path of Ren is mostly linear in it's adventure, but is also full of detours and hidden side-paths in which you can explore a lore-rich world.
Throughout the journey, you can collect pages which piece together parts of the worlds lore. Can you find every page? Some of them will be pretty tough to get to!
Experience a carefully written story, filled with emotion!
The story follows Ren, who wakes up in an unfamiliar world without any memories.
He soon learns that people end up in this world because they lacked fulfillment in their lives. Ren sets out into the world to find out why he ended up there, encountering and learning the stories of other characters along his journey.
Add the game to your Steam wishlist to be notified when it launches!
The Path of Ren is still in early development. If you think the game looks interesting, adding it to your Steam wish list helps a lot!
You can also follow me (the developer) on social media (Twitter/Instagram @trevermock) where I post progress updates 2-3 times a week!
Thanks so much for reading this far and I hope this game piqued your interest in some way!
---
PC requirements:
Minimum:
OS: Windows 7+

Processor: Intel Core i3

Memory: 2 GB RAM

Graphics: Intel HD 4000

DirectX: Version 10

Storage: 2 GB available space
---
MAC requirements:
Minimum:
OS: Mac OS X 10.9+

Processor: Intel Core i3

Memory: 2 GB RAM

Graphics: OpenGL 3.0

Storage: 2 GB available space
---