Trigon: Space Story Demo

Space roguelike adventure. Take a chance to become a spaceship captain and lead your own crew, make pivotal decisions, and inevitably win tactical battles. Uncover the mysteries of the galaxy, among which is the star of Trigon, the most sinister and enigmatic one.
TACTICAL BATTLES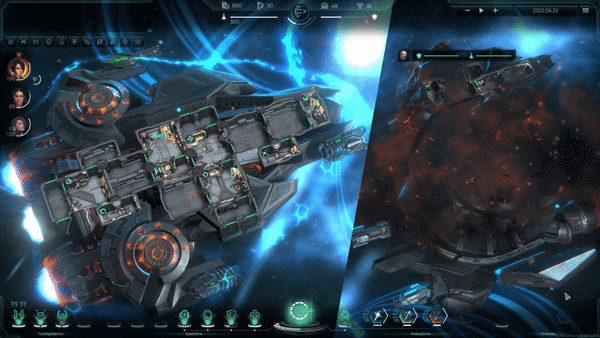 Enjoy epic ship battles in wonderous parts of the universe. There is a deadly spaceship with multiple combat subsystems at your disposal. Just don't forget that it's important to take care of both the ship and the captain. Since it's you who are the captain!
Fight in your own fashion. Overwhelm the enemy's defense with your powerful weapons or force their ship's life-support system out of action to watch them die of oxygen deficiency.
Secure a tactical victory by using your crew's unique abilities. Send your landing force to unexpectedly board the enemy's ship, or be savvy enough to exploit your crew members' abilities and take control of the other party's ship without damaging its valuable cargo.
SPACESHIPS
Brave captains like you can enjoy a wide range of spaceships. There is a great deal of choice between classical Human ships, energy-efficient Etari ships , biomechanical Rakkhs ships , and the high-tech Taertikons ones. It's up to you!
RICH ARMORY
Lasers, turrets, plasma-cannons, bombs, drones, and many more to try. Don't be afraid to accumulate your own unique battle experience using them alone or in combination with various ships. Feel free to play around with it!
CREW

Face all sorts of moral issues and test your people's loyalty during revolts, vagaries of fortune, wars of words, and difficult life choices. Your subjects will also be prone to love and hatred, granting themselves buffs and debuffs.
Check out the unique features, passive perks and specializations. Feel free to try them out and combine the uncombinable to find the combination that works just for you.
ABILITIES
Apply the unique features of your units as well as powerful abilities that will get you unmatched advantage over the enemy. Complete key quests and defeat bosses to enjoy even more abilities, turning each playthrough upside down — like extrasensory perception, telepathy, hacking, battle fury, and many more to go!
NEW ADVENTURE EACH TIME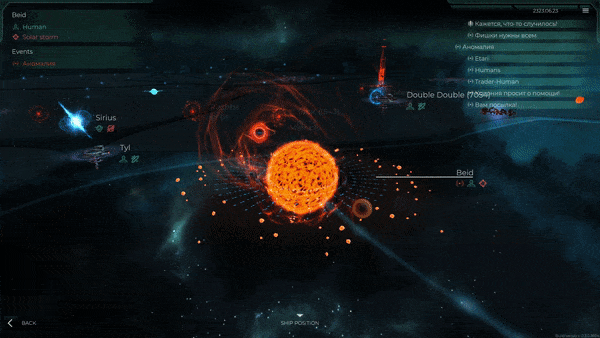 All and everything can be generated: space clashes, events with various outcomes, as well as social interaction with the crew. Each game follows a different path, and each time you can take on a new role. You can play as a good-hearted captain eager to save the world one day, whereas the next day may turn you into an evil pirate, killing and robbing everyone on your way. Or you might want to try the role of a soldier of fortune, hired by a large corporation and doing things only for money. Whatever your choice is today, your experience will be unique.
RICH WORLD BUILDING
The Universe is inhabited by:
Savvy and adventurous Humans
Warmongering and dangerous Rakkhs
Sophisticated and supercilious Etari
Mysterious and shrewed Taertikons
These are the key races, with their own peculiarities, ships, and mindsets. Apart from the major races, there are different factions in the game, like space pirates, who are not averse to profiting off of a space traveler they come across; soldiers of fortune, or venators, stalking the galaxy and hunting you; merchants ready to trade everything and everyone for their own gain — and it's just to name a few.
Each race boasts its own history and has its own opinion about the things going on in the galaxy. Are you taking their stand or choosing your own path? It's up to you!
YOU ARE TO GO THROUGH
Dynamic events, new and interesting each time! Your spaceship went through the system smoothly the other day; but what if there is a traitor among the crew this time? At least your mechanical engineer is pretty sure about it. Well, sort of.
Space stations, deserted colonies, a spaceship that disappeared long ago… You can encounter anything and everything! Your exploration is, however, bound to taking risks — who knows what your decisions would lead to.
Moral dilemmas. Would you opt for saving people from a burning spaceship or for helping the pirates ravage it? Or would you do something else instead? Whatever you choose, there is no chance for boredom!
Add the game to your Wishlist and follow the news!
---
PC requirements:
Minimum:
Requires a 64-bit processor and operating system

OS: Windows 7

Processor: i5 Gen2 or AMD FX 6300

Memory: 8 GB RAM

Graphics: NVIDIA GTX 660 or AMD HD 7870

DirectX: Version 11

Storage: 10 GB available space
Recommended:
Requires a 64-bit processor and operating system
---