Triton Survival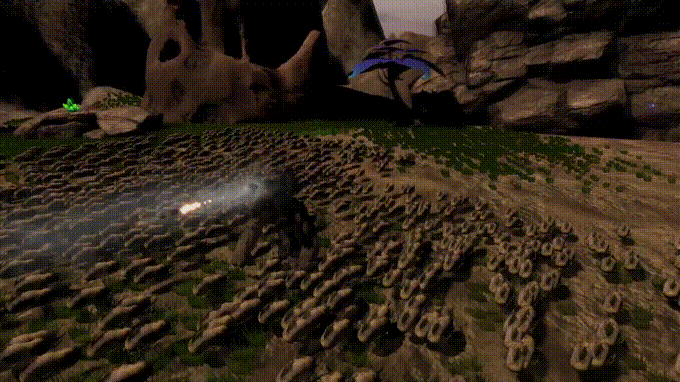 Overview:
Triton Survival is a sci-fi RPG survival game with an intense action, focused on surviving, crafting, gathering resources, building base and beat attacks of enemy hordes from the Neptune planetary system.
Explore: travel through unknown planets. Obtain energy to charge the Triton Portal and travel to Neptune's satellites.
Survive: get enough supplies of food, drink, an oxygen. Protect yourself from radiation, temperature, meteorites, creatures and all hostile conditions of Triton.
Fight: protect the portal from massive enemy waves. Equip yourself with different weapons and ammo. Develop your strategy: place turrets, mines and other defensive elements to defend your base.
Build: base building, anywhere, on any place. Gather resources from the surface of planets and underground mining. Craft structures: create your base, repair and upgrade it.
Story:
Year 2114… The Earth has been invaded!
An alien civilization has built a network of Portals in the planetary system of Neptune that allows entry to the Earth by creating black holes in the atmosphere of our planet.
You have been sent to the main satellite of Neptune: Triton.
Your mission there will be to protect the Interplanetary Portal and prevent the invasion of new alien troops as well as destroy the network of Portals of the rest of Neptune's satellites.
You are the only hope for our planet Earth!
Currently features (Early Access version):
Survival system (health, shield, hunger and thirst, oxygen, temperature, radiation,…)
Crafting system (including decomposition and combination of chemical elements to create resources).
Location and gathering of resources on the surface of the planet (wood, stone, minerals, gasing substances…).
Mining of underground resources by means of mechanical extractors.
Farming system (harvest vegetables and trees).
Flora and fauna.
A variety of weapons (blasters, grenades, ammo, turrets…).
Game modes: Survival (for now solo player mode).
Character skills tree through experience levels.
Building system with destructible and repairable parts, to construct a base around the interstellar Portal.
Survive waves of attacks of alien enemy hordes.
Day and night cycle with weather and cloud system.
Energy generators system (powered by resources such as carbon, fuel, hydrogen, radioactive elements, sunlight …) to provide electricity to elements that need it (automatic turrets, lighting, teleporters, electromagnetic defensive systems, proximity sensors …).
Wiring system for connection of generators with devices that need energy resources.
Transport drones (especially for heavy resources) with satellite guidance system.
Vehicle with inventory system (transport of objects, ammunition, energy, fuel, light system, vehicle improvements …).
Teleporter network to travel to inaccessible places on foot or with your vehicle.
Hostile elements on planets: radioactive clouds, falling meteorites, toxic water, unknown creatures …
Loot boxes scattered across different locations. Inside you will find food, resources, ammunition …
Two planets to travel: Larisa and Proteo
Enemies on land, sea and air.
Basic Tutorial Quest.

Future features (Final version):
• Interplanetary travel system through the Triton Portal (when their power is enough) adding more planets with enemy bases and new resources only available on this planets.
• Improved enemy hordes generation. Balance of the game difficulty depending on your defensive system (weaponry, structure types of your base and players connected), number of enemies per horde and attack power (type of weapon, vehicles, …).
• Vehicles.
• Improved Tutorial Quest.
• Expansion of crafting resources, building structures, weapons, enemies, flora, fauna,….
• Hunting creatures to obtain their resources.
• Improvements on all features of the game.
---
PC requirements:
Minimum:
OS: Windows 7

Processor: Intel Core i3

Memory: 1 GB RAM

Graphics: GTX 580

DirectX: Version 11

Network: Broadband Internet connection

Storage: 8 GB available space

Sound Card: 16 bits
Recommended:
OS: Windows 10

Processor: Intel Core i7

Memory: 4 GB RAM

Graphics: GTX 1080

DirectX: Version 11

Network: Broadband Internet connection

Storage: 8 GB available space

Sound Card: 32 bits
---