Wind Angel
[Game Introduction]
"Wind Angel" is a vertical scrolling flying shooting game. The player controls the protagonist fighter plane to fight the enemy in the air.



[Game Control]
Players can control the game via keyboard, keyboard + mouse or handle.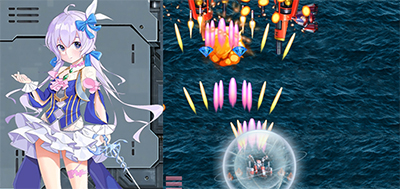 [Game Features]
Players can get diamonds by destroying enemy aircraft, and diamonds can upgrade the protagonist's fighter aircraft in the supply station. The types that can be upgraded include the number of bullets, the power of bullets, lasers, protective shields, large-scale attack weapons, and so on.
Players can gain experience when hitting an enemy aircraft. After the experience is over, the fighter's main and secondary guns will be upgraded. After reaching the maximum level, the protagonist has a chance to enter the blood state.
---
PC requirements:
Minimum:
OS: Windows 7,Windows 8,Windows 10

Processor: Core 2 Duo

Memory: 2048 MB RAM

Graphics: Intel HD 4600 (AMD or NVIDIA equivalent)

Storage: 2048 MB available space
---