WW2: Bunker Simulator Demo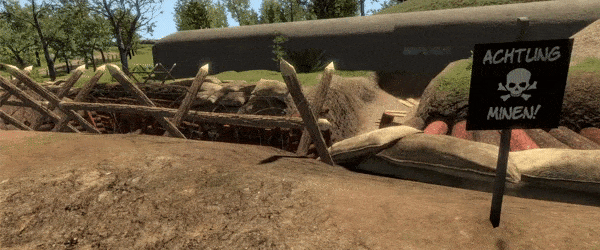 ACHTUNG!


You are an American soldier. One of the distinguished 101st Airborne Division. Soldiers of 101st fought hard and died but they followed orders. They made things that others couldn't. Do you want to be remembered? You'll have to earn it. Your companions have captured the German bunker during the Battle of Normandy, and your task is to defend it at all costs. Defend your bunker!
In the demo version, the player has the opportunity to live one day in a bunker from which he cannot get out.
The command has prepared a lot of missions for you to perform including:


Soldiers are humans and between fighting, they need to rest, get fed, and regain their energy. The enemy won't wait for you to get ready. The day is short. Many tasks await you. Prepare food to regain some strength.



The skies are full of enemy aircraft. It's hard to get enough supplies from your allies. You must scavage whatever you can to survive. Search the bodies of those killed in battle – sometimes you will even find chocolate! Remember to check the supply regularly as you must also take care of your companions. Order wisely and share food.



If you don't have enough bandages, food, or ammunition, send a message to the command with a request for a supply drop. It is mandatory to enter the password in the Morse code. Receive encrypted messages and anticipate your enemy's plans.
Remember: Soldier's fate… never changes. You thought 101st Airborne Division got famous for nothing?



taking as many enemies with you as you can.
Let history judge you by your will and determination. Let everyone know that YOU were here and YOU've made the stand.


Soldiers always work in groups. Let's stick together.

---
PC requirements:
Minimum:
OS: Windows 7/8/8.1/10 (x64 x86)

Processor: Quad Core Processor or equivalent

Memory: 8 GB RAM

Graphics: GTX 770 4 GB or equivalent

DirectX: Version 11

Storage: 5 GB available space

Sound Card: DirectX compatible
Recommended:
OS: Windows 7/8/8.1/10 (x64 x86)

Processor: Intel Core i7-4790k (AMD Ryzen 7 1700)

Memory: 16 GB RAM

Graphics: NVIDIA GTX 1080 or equivalent

DirectX: Version 11

Storage: 5 GB available space

Sound Card: DirectX compatible
---